Pipeline supporters plan rally to "reclaim" Indigenous land
Business owners, local politicians want Secwépemc houses removed
Angry residents of Blue River, B.C. are calling for a "rally to reclaim the North Thompson Valley" on Saturday, as Secwépemc land defenders refuse to leave a piece of land where Trans Mountain plans to build a 500-worker camp.
Rally organizers sent a release to media saying "the people who rightfully call the valley home – all people – have had enough of the illegitimate protest and their vulgar and divisive methods. It's time for them to leave."
But members of the Tiny House Warriors, as well as at least one Secwépemc chief, point out the North Thompson Valley is part of the Secwépemc Nation, and was never sold or surrendered to the Crown.
While individual band councils have signed agreements with Trans Mountain and the federal government, a Secwépemc Assembly held in nearby Clearwater in 2017 affirmed the collective opposition of Secwépemc people to the new pipeline.
With construction slated to begin this summer, people on both sides warn the situation is escalating. Two elected chiefs have come out against the Tiny House Warriors. Premier John Horgan told them to "call the cops." Local officials say that's not enough – they want pipeline opponents removed for good.
A land cut in half
"Set amidst the pristine landscape of the Upper North Thompson Valley, Blue River is surrounded by lush interior rainforests of cedar and spruce, sparkling glacier fed lakes, and majestic mountain peaks," says the town's website.
Blue River itself, population 260, is a logging town halfway between Kamloops and Jasper, with a few tourism businesses. It's also on the route of the Trans Mountain expansion project, which would cut through the middle of Secwépemc territory.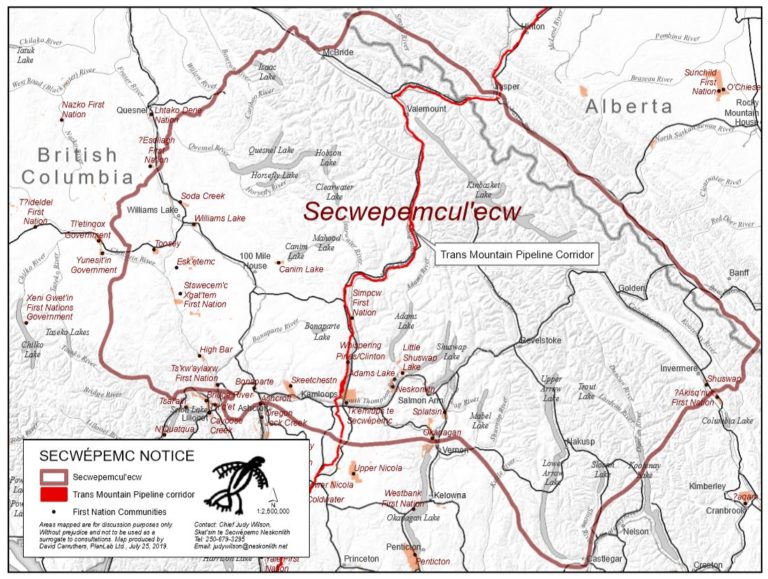 Like most Indigenous territories in B.C., Secwépemc land was claimed by the British Crown in the 1850s. Colonizers wrote the name of the nation as "Shuswap", which is how it appears on B.C. maps. Secwépemc people who survived waves of devastating disease were confined to small reserves governed by the Indian Act. Canada recognizes 17 Secwépemc bands today.
One of those bands, the Simpcw First Nation, asserts jurisdiction over the Blue River area. Simpcw also operates a group of companies that have contracted with Trans Mountain since 2008, when previous owner Kinder Morgan undertook the 160 kilometre Anchor Loop expansion in Jasper National Park. Simpcw Resources LLP also provides private security services along the Trans Mountain route.
"In 2017, we gave our free, prior and informed consent to Trans Mountain to build and operate the new pipeline here," Simpcw First Nation Chief Shelley Loring said in a joint statement with Tk'emlups te Secwepemc Chief Rosanne Casimir. "We respect the positions taken by other Secwepemc on the project and fully acknowledge that each of us has the responsibility and jurisdiction to make their own decision."
But another chief, Kukpi7 Judy Wilson from the neighbouring Neskonlith band, said in a statement that what happens on collective Secwépemc territory is not up to elected band councils.
"Since these two Kukpi7s – like our Council – are operating through the Indian Act, and since the Trans Mountain Pipeline Expansion Project is located off-reserve, even the Canadian courts – which are in a conflict of interest – recognize that Aboriginal Title and Rights are held collectively by the Indigenous Peoples, not by one or two Indian Act bands," Wilson writes.
Wilson affirms the Neskonlith community's ongoing opposition to Trans Mountain, and calls for another urgent, nation-wide Secwépemc Assembly, outside the band council system, to discuss the current controversy.
Business owners call for crackdown
Trans Mountain has begun construction on large temporary work camps in Valemount and Clearwater. Public health researchers have found worrisome links between industrial "man camps" and violence against Indigenous women. That's why the Tiny House Warriors have occupied so-called Crown land in Blue River, vowing to block a third 500-bed pipeline camp in the area.
But local business owners in Clearwater and Blue River say they were looking forward to pipeline workers spending money in town. They're upset by the Tiny House Warriors' presence over the last two years.
"It's very vulgar," says campground operator Michael Nesterski. "This group is in town harassing businesses, they're harassing people, they're using foul and racist language," complains Regional District Director Stephen Quinn.
Quinn, who was born in the UK, is frustrated by what he sees as a lack of action by the RCMP. "Is there in fact two kinds of law in Canada? One for rural areas and one for urban areas? This really goes to the heart of rule of law and democracy."
Prompted by complaints from Quinn, Nesterski and others, local MLA Peter Milobar is calling on the provincial government to intervene: "Anyone has a right to protest, absolutely, but business owners, after two years, also have a right to quiet enjoyment of their own properties as well."
"I cannot tell the cops what to do," Premier Horgan said in response. "But if citizens who they are charged with protecting have concerns, law enforcement in my opinion, should respond to that."
Fears of further violence
"My biggest concern is it'll turn into violence," Quinn told a local paper. "You hear that on the street and it doesn't take long to go from mumbles and grumbles on the street to something serious." But violence has already arrived, at least for the Tiny House Warriors.
The night of April 19, with COVID-19 cases surging in B.C., a group of men rammed ATVs with Alberta licence plates through a barricade controlling access to the camp. The attackers, visibly drunk, shouted racist abuse and tore down red dresses hung in memory of murdered and missing Indigenous women.
They stole a truck belonging to camp leader Kanahus Manuel and rammed it into one of the wooden tiny homes where she fled to escape attack. Then they drove her truck into a utility pole and left. "If this was the other way around, and there were three native men who stole a white woman's truck and plowed it into a white woman's house, there would be a manhunt," Manuel told the Toronto Star.
Clearwater RCMP Sgt. Grant Simpson said police are investigating the April incident. But that hasn't stopped near-constant surveillance and harassment of camp residents by police and civilians alike. Now, with the "Rally to Reclaim the North Thompson Valley" scheduled for Saturday, right-wing activists appear to be swinging into high gear. Yesterday Aaron Gunn from the "BC Proud" outlet was spotted flying a drone over the Tiny House Warriors camp.
Time for leadership
The standoff at Blue River highlights unresolved questions over who owns the land and who gets to decide what happens on Secwépemc territory. The federal government bought the project with our tax dollars and approved it – twice. The federal courts ruled the government's second round of consultation with First Nations was adequate for construction to proceed. For Prime Minister Trudeau, it's full steam ahead.
Business owners and local politicians want Secwépemc land defenders cleared out so a pipeline camp can be built on "Crown" land. But the Tiny House Warriors, Neskonlith chief Judy Wilson and the 2017 Secwepemcúlecw Assembly say it's not up to business owners or Ottawa whether Trans Mountain gets built. For that portion of the route, it's up to the Secwépemc people as a whole.
The provincial government claims to oppose the Trans Mountain expansion. And in the case of the Wet'suwet'en hereditary chiefs, B.C. has shown a willingness to engage with traditional governance structures outside of the Indian Act system. B.C. should support Kukpi7 Wilson's urgent call for a Secwépemc assembly – and provide the resources to safely convene people during COVID-19.
In the meantime, Premier Horgan should stop telling Blue River residents to "call the cops." RCMP enforcement against Secwépemc land defenders would not only be premature in the absence of a decision by the nation and its collective title holders. It could also be the spark that triggers support actions across B.C. and Canada similar to the Wet'suwet'en support actions that prompted a major political crisis in February.
You can make a donation to the Tiny House Warriors on their website.