Jonathan Wilkinson: the Minister of Greenwash

After working for ExxonMobil and Shell, it looks like his job now is to grow Canada's oil sands
After the 2019 federal election, Alberta premier Jason Kenney laid out his demands for Ottawa. He wanted Environment Minister Catherine McKenna, whom he called "anti-pipeline," replaced with someone the oil companies could trust.
Prime Minister Trudeau tapped North Vancouver MP Jonathan Wilkinson, a former Saskatchewan bureaucrat and CEO of a company that partnered with ExxonMobil and Shell to develop gas recovery systems for refineries.
Now it seems Wilkinson's job is to gaslight the public on oil sands expansion.
Since his appointment as Minister of Environment and Climate Change, Wilkinson has embarked on a media blitz to promote the taxpayer-funded Trans Mountain expansion, which would export crude oil via hundreds of tankers a year.
"There's no inconsistency between ensuring that people have access to sell oil and gas products in the short term, while we go through the energy transition, and fighting climate change," the minister intoned on CBC radio. "There's absolutely no conflict."
If Wilkinson were serious about fighting climate change, he would take a stand against fossil fuel expansion. Instead, he's poised to approve an oil sands mine that would pump over a quarter-million barrels of bitumen into new pipelines.
Then and now
It was a warm fall evening in 2015. The church was packed. Candidates at the North Vancouver debate were joined on stage by celebrated climate change and policy experts Kathryn Harrison, Simon Donner and Nancy Olewiler. In the traditionally Conservative federal riding of North Vancouver, the mood had shifted dramatically in the leadup to the 2015 election.
Looming large in the church sanctuary that night was the controversial Kinder Morgan pipeline expansion. The project would bring a seven-fold increase in tanker traffic: huge Aframax tankers that would barely fit under the Ironworkers Memorial Bridge, carrying diluted bitumen past the shores of the North Shore riding and its newly revitalized residential waterfront.
It was the first time many locals had heard from Jonathan Wilkinson, and he made an impression. His twenty years in "clean tech", his overarching concern about climate change leading him to seek public office — he was talking the talk, and the crowd ate it up.
For folks in the pews at St. Andrews that October night, Wilkinson's mention of "the transition" was music to their ears, conjuring images of wind farms and solar panels. Wilkinson the climate warrior, who had gone to battle first in the corporate sector, now turning to government as an even more effective way to advance his agenda.
"The world is going to be moving to a lower-carbon economy," Wilkinson said over and over that fall. And while talking to the local Dogwood team at a meeting in November 2015: "It's important to determine which sectors will be the new drivers for growth as fossil fuels recede in value. Our job includes how to create strategies and encourage new sectors for Canada's economic future."
Decades in 'clean tech'
Before entering politics, Wilkinson held executive positions at QuestAir, Nexterra and BioteQ over a period of 16 years. At QuestAir, a major focus of the business was hydrogen recovery for oil refineries. As Exxon documents explain, QuestAir's technology helped the global oil giant save money and expand production.
"We regard our joint development agreements with ExxonMobil Research and Engineering Company and Shell Hydrogen and our worldwide network of existing customers as validation of our plans for the future," CEO Jonathan Wilkinson said after taking the company public in 2004.
The same media release states: "QuestAir management believes that the principal drivers of this growth in refinery hydrogen demand will be: an overall increase in worldwide oil production; regulations requiring lower amounts of sulphur in diesel fuel; and increased consumption of 'heavy' low quality crude oil." They got that right.
Fast-forward to December 2019, and Wilkinson still sounds bullish about Alberta's heavy oil industry.
"Over the next number of decades, people are going to continue to consume oil and gas," the environment minister told CBC. "And so for Canada, it's important that the folks that produce these goods get full value for their products." Translation: more pipelines.
Wilkinson's real plan?
In the frenzy to defeat Stephen Harper in 2015, Wilkinson rode the red wave into power in his riding, buoyed by the support of hopeful climate voters looking for a hero. But the honeymoon was soon over. Talk of Canada moving to a low-carbon economy soon took a backseat to repetitive mansplaining about how the Kinder Morgan expansion was in the national interest.
Dogwood supporters in North Vancouver were outraged when the federal government bought out the pipeline's Texas owners. Wilkinson's government sent billionaire Rich Kinder back to Houston with $4.4 billion of public money in his pocket, while locals grappled with a growing affordability crisis.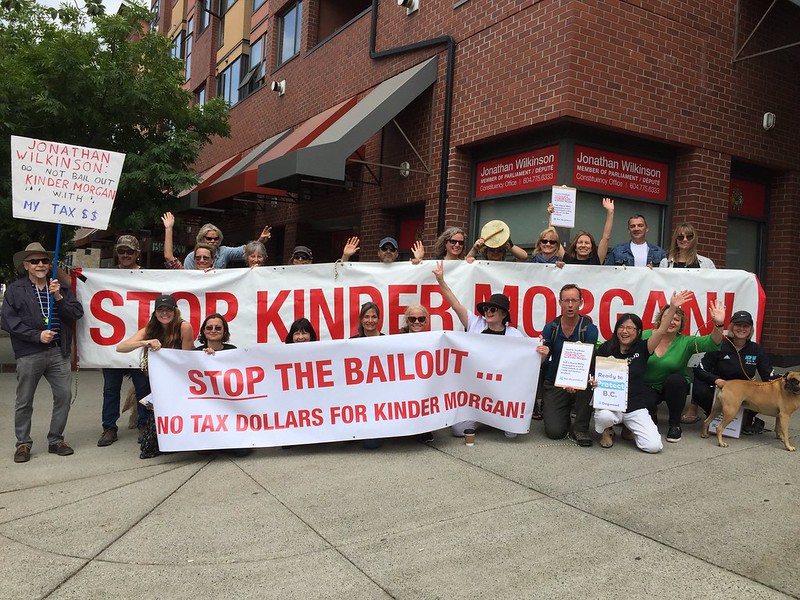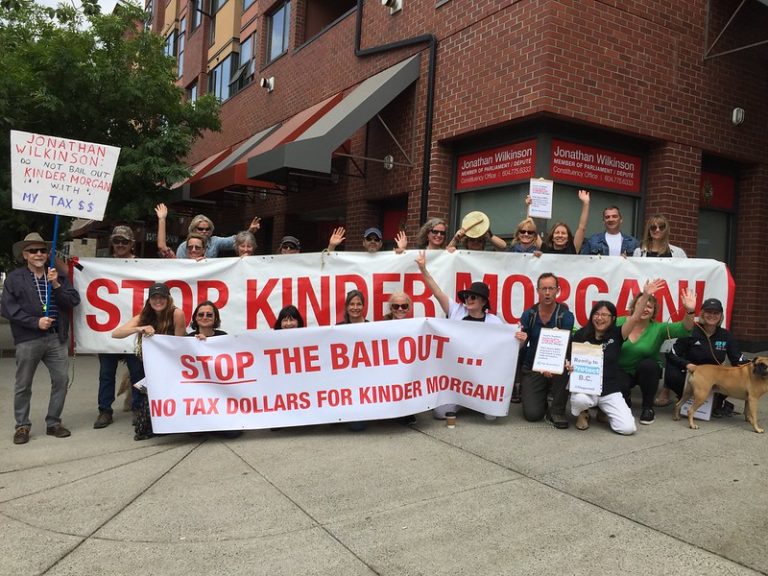 Wilkinson is now in charge of Canada's climate plan, ranked among the weakest in the G20. With emissions still rising, the global oil and gas sector plans new extraction projects totalling $1.4 trillion USD in the next five years. 85 per cent of that expansion would happen in the U.S. and Canada.
So what's the minister's actual climate plan?
Rather than halting fossil fuel expansion, he wants to double down on 'clean tech'. As the Canadian Press reports, "Wilkinson said the forthcoming plan will lean heavily on developing clean technology to reduce the emissions from oil and gas production".
The idea is to rely on experimental and future technologies to reduce the 'intensity' of fossil fuel extraction, while producing more and more crude oil.
It's called greenwashing, and Jonathan Wilkinson has been doing it for years.