Target practice
Thousands cheer online for activists to be murdered. How long before someone takes it literally?
"Next time just cut the cables," wrote 67-year old John Les on Facebook. He was reacting to a CBC News video of police arresting Greenpeace activists dangling from the Ironworkers Memorial Bridge.
It's tempting to dismiss Les as an old shitposter with nothing better to do at 6:30 in the morning. But he's also British Columbia's former public safety minister, a three-term MLA and the former Mayor of Chilliwack.
And Les is not the only pillar of his community calling for anti-pipeline activists to be murdered.
For months, Saskatchewan oil billionaire and television personality W. Brett Wilson has posted on Twitter about killing people who oppose oil sands expansion.
"Cement boots work," wrote the Nashville Predators owner and former Dragon's Den host. Challenged by other users, Wilson has defended the comments as jokes, motivated by frustration with the slow progress of the Trans Mountain expansion project.
While Wilson claims he's being funny, the men replying to him, retweeting him and posting similar comments don't seem to think it's a joke.
After two female Greenpeace activists climbed on top of tunnel-boring equipment in May, Facebook user Shannon Antle vowed to run them over in a crowd.
It was one of hundreds of comments that day threatening the two women with rape, murder and other violence.
Based on his Facebook profile, Antle likes the Ice Cube comedy Friday, Lemony Snicket books and listening to hip hop at the lake with his friends. He also works in pipeline construction.
Antle's online comment echoes real-life violence in Charlottesville, Virginia last year. That's where 20-year-old neo-Nazi demonstrator James Alex Fields rammed his Dodge Challenger into a crowd of counter-protestors, killing Heather Heyer and injuring dozens more.
More recently in Canada, a young man ran down more than two dozen pedestrians in Toronto with a rented van, killing 10. The suspect, Alek Minassian, was allegedly motivated by hatred for women and anger that they wouldn't have sex with him.
So you can't defend threats of vehicle ramming as a "joke".
Which brings us back to the gun guys. It is normal now after a pipeline protest to see men online posting about "target practice," calling for police or the military snipers to shoot the activists or threatening to do it themselves.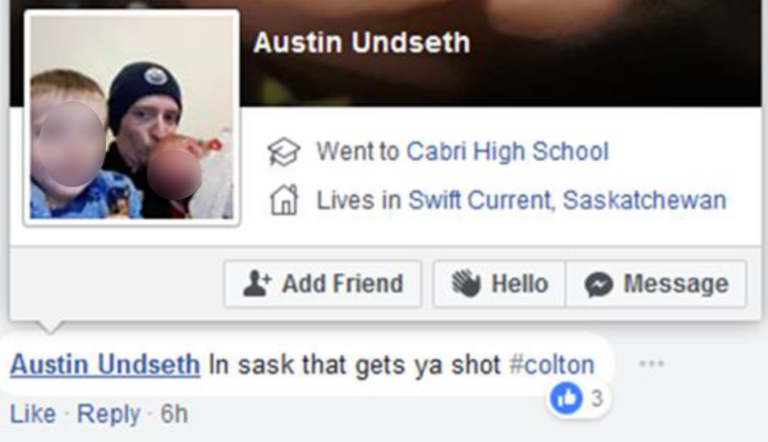 One chilling example was posted by Facebook user Austin Undseth, also in response to a Greenpeace action. "In sask that gets ya shot," wrote the Swift Current man. Then he added the hashtag #colton, an apparent reference to Colten Boushie.
Boushie, a 22-year-old man from the Red Pheasant Cree Nation, was shot in the head by Saskatchewan farmer Gerald Stanley. Stanley was acquitted of any crime.
This toxic blend of racism, violent misogyny and death threats appears to be intensifying as the Trans Mountain pipeline debate drags on.
Egged on by high-profile commentators and pro-industry Facebook pages, thousands of men are using their real names to cheer for the murder of Indigenous and environmental activists – their fellow Canadians.
Sooner or later, it seems inevitable that one of them will take that rage offline, with tragic consequences.
There are three things our elected leaders can do now, before it's too late:
Cancel the wasteful Kinder Morgan bailout.This ill-conceived megaproject should have died under its own weight back in April. By injecting billions of public dollars into keeping it on life support, politicians are deepening the rift in Canadian society. Tell them to stop.
Give angry young men reliable, meaningful work. Since apparently we have $4.5 billion to spend, let's retrofit some schools. Let's drill geothermal wells, build electric buses and install some solar panels. In the meantime we'll need more firefighters and disaster response crews.
Resource the fight against radicalization. The RCMP shouldn't have to wait until someone complains to investigate a death threat. If someone is posting publicly under their own name, maybe they could use a conversation with an officer – or a counsellor. These programs need to be expanded.
While we're at it, here are three things the Canadian news media can do:
Fact check. Every time a news outlet runs a story claiming the Trans Mountain pipeline has never spilled, a majority of affected First Nations are in support or the project will have no impact on climate change, they widen the divide. There are valid arguments for and against. No need to print false claims.
Stop running op-eds accusing pipeline opponents of treason. There's a difference between oil industry profits and Canada's public interest. In a democracy, people have the right to criticize a company or campaign against government policy. Some NGOs, including Dogwood, accept donations from U.S. philanthropists. You don't have to like it, but it's not treason.
Investigate. Where did this network of enraged oil patch defenders come from? How many of them are there? Where do they congregate online? Who organizes and mobilizes them? And if those efforts require funding, where does that money come from?
We don't have to look far to see what happens when violent rhetoric spills over into the real world. In the case of the pipeline fight, we still have a window of time to stop it.