Meet the trophy-hunting clowns who dictate wildlife policy in B.C.
Afro wigs, bananas and big cheques for the politicians in the room
It's Spring, which means the usual passel of foreign executives, weird dentists, and professional sports players are flying around B.C. looking for grizzly bears to kill.
Whatever you think of hunting for meat, the Spring grizzly hunt is different. Having emerged from hibernation, the bears wander down from their snowy dens to look for food. That's when they're shot, skinned, and decapitated. Their bodies are left to rot.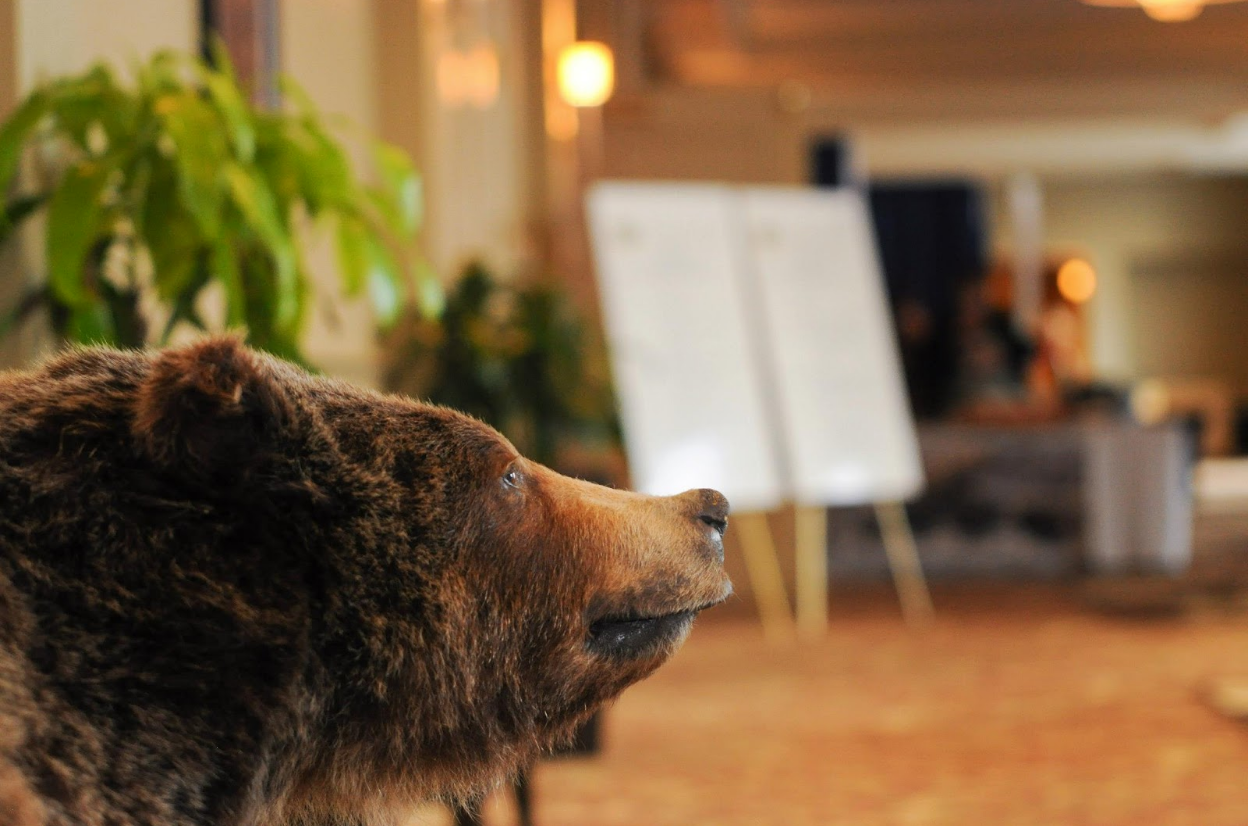 Spring also brings the trophy hunting industry's annual ballroom gala, featuring BC Liberal ministers, plenty of taxidermy, and comedic musical acts. Here's a picture of five guides at an event in Kelowna, wearing Afro wigs and holding bananas.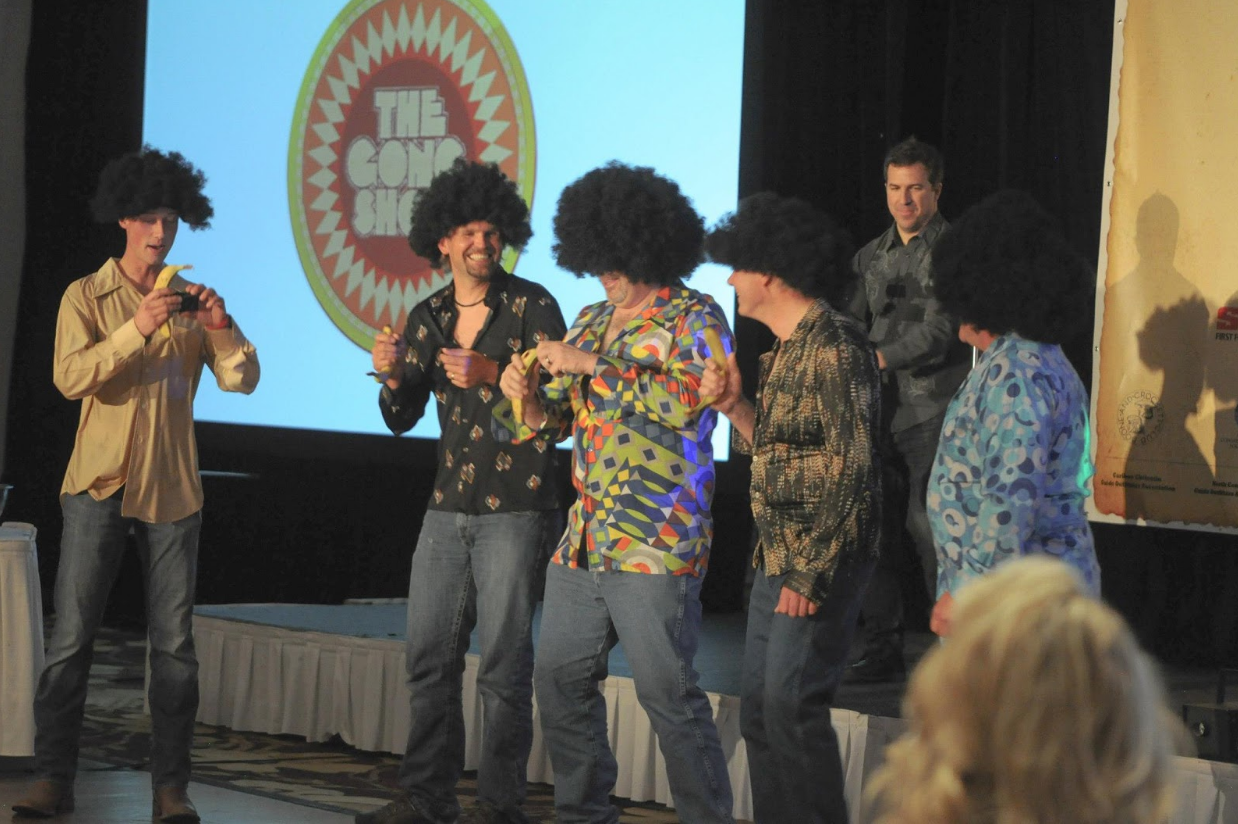 The picture was captioned "The Jackson 5, all grown up," until it was deleted from the Facebook page of the Guide Outfitters Association of British Columbia. The trophy hunters also scrubbed a picture of "Manjeet," described as "a GOABC classic".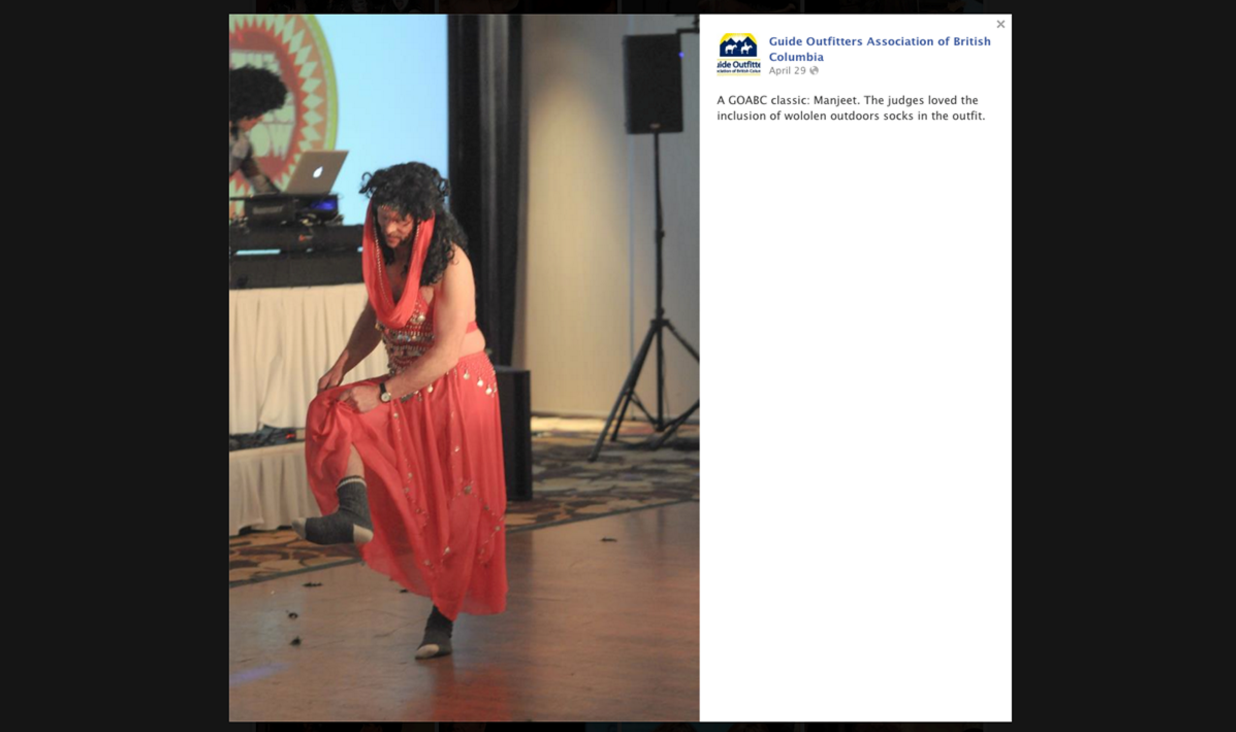 Also performing that night was Guide Outfitters Association executive director Scott Ellis dressed up as Prince, another celebrated black artist (who died last month).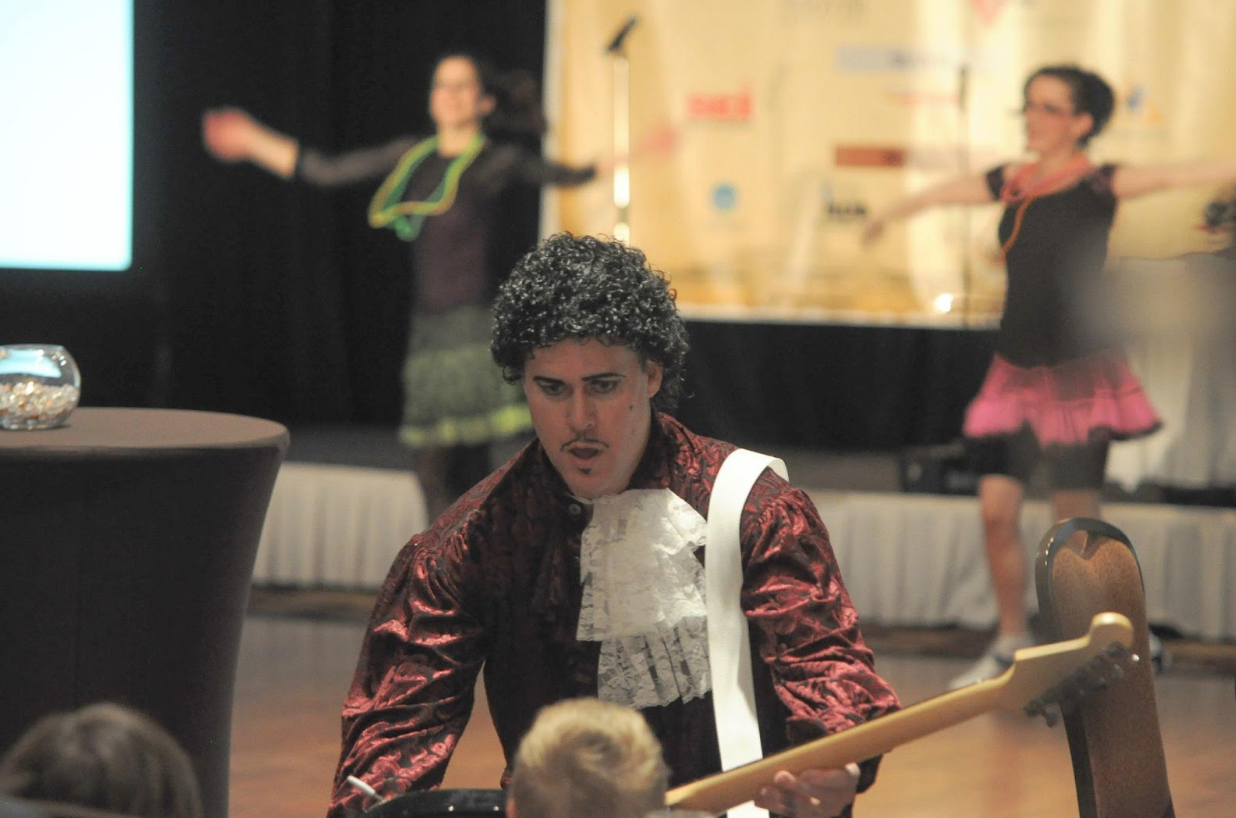 Why is this relevant to B.C. politics, and the unfolding scandal over corporate donations? Well, there were at least two government ministers in the crowd at this 2013 event, including the minister in charge of hunting, Steve Thomson. Here he is accepting an Okanagan wine basket from Scott Ellis, who looks like he's still wearing eyeshadow.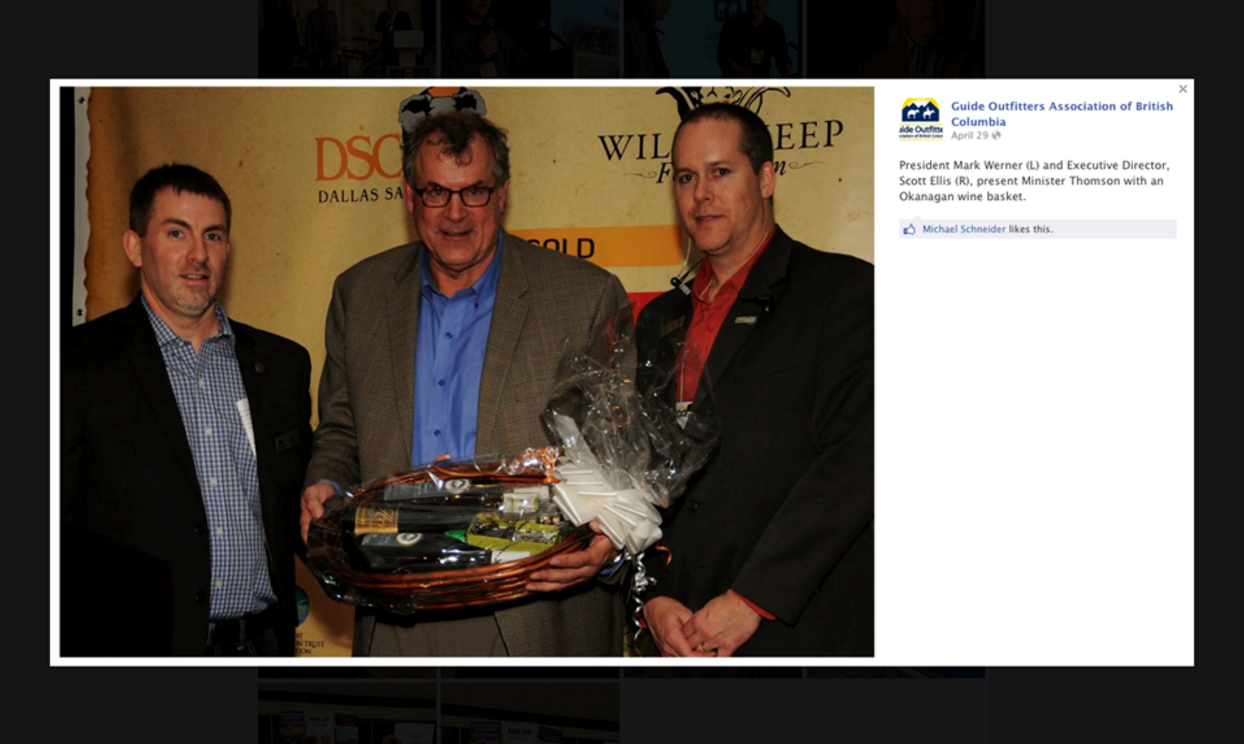 Along  with  Ellis, Minister Thomson is the other spokesman trotted out twice a year to defend the trophy hunt, which 91 percent of British Columbians oppose.
Why does the government of British Columbia continue to promote an activity that delivers a negative economic impact, violates First Nations law, and is clearly against the values of British Columbians?
The political donations can't hurt. A month before Minister Thomson received his wine basket in Kelowna, the BC Liberals cashed a $12,500 cheque from the Guide Outfitters Association.
According to a quick search of Elections BC records, the trophy hunters have given at least $76,175 to Christy Clark and the BC Liberals, with $9,025 going to the BC NDP.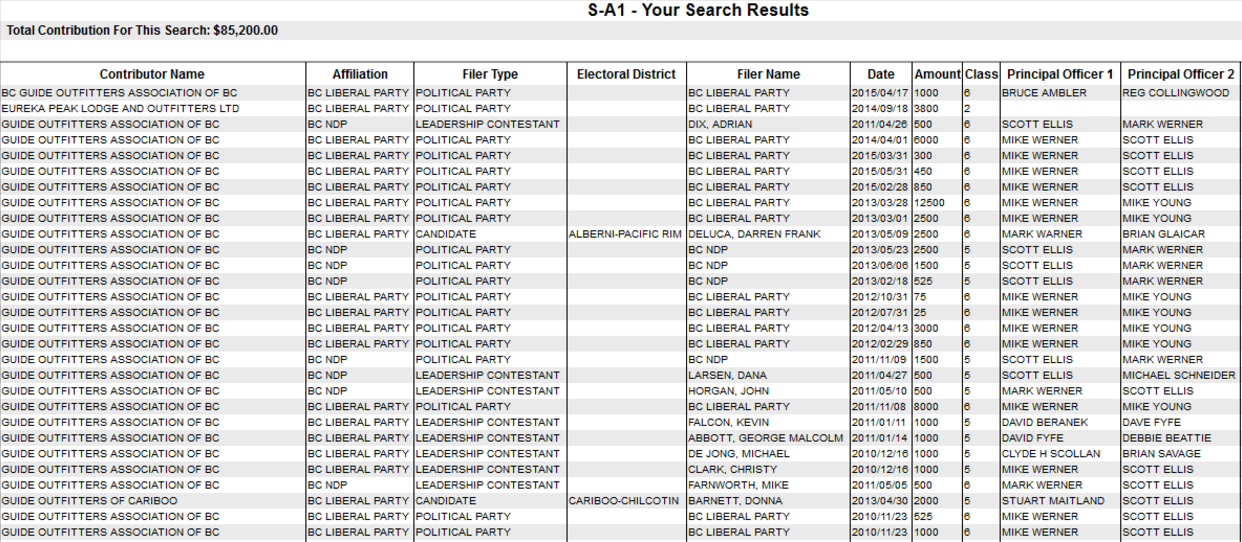 Whether it's the election cash or just a shared taste in entertainment, the Liberal ministers give their friends the Guide Outfitters nearly anything they ask for. And not just grizzly bears — last year resident hunters got a rude surprise when the government started transferring licences for food animals like moose and elk over to the foreign trophy hunting industry.
These bizarre galas are just one more reason to ban corporate money in B.C. politics. The donations may be legal, but they leave citizens with the distinct impression that the province's animals are up for sale, with a portion of proceeds going straight into the Premier's pocket.
Please join our campaign to Ban Big Money in B.C. politics.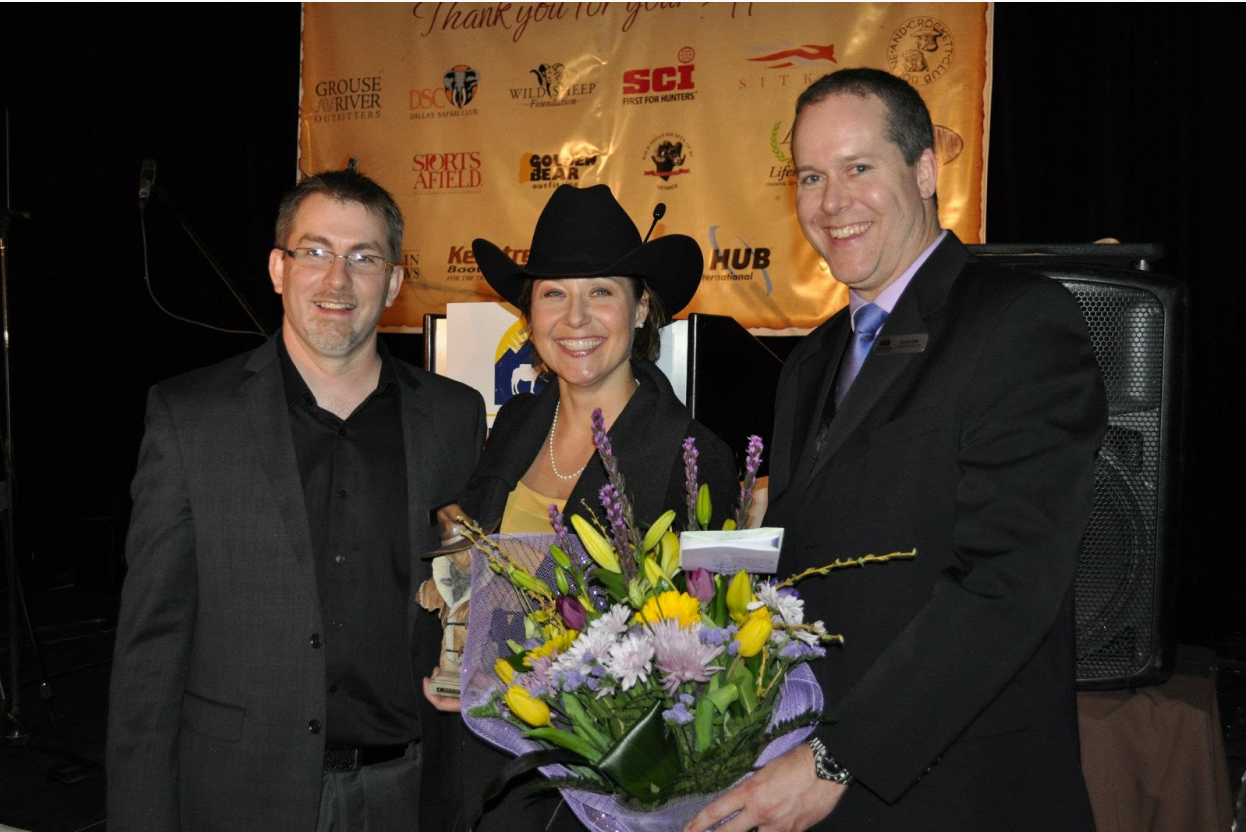 From the 2012 GOABC Gala. "In recognition of her support for our industry,
Premier Clark was presented with the President's Award."