BC Liberal candidate linked to U.S. trophy hunting Super PAC
Darren DeLuca auctioned off B.C. bear hunt for Safari Club International fundraiser
As a professional guide outfitter, Darren DeLuca has helped line the coffers of a U.S. political action group waging a global fight on behalf of trophy hunters. As a politician, DeLuca has also been funded by trophy hunting lobbyists in his own bid for power.
The BC Liberal candidate for Mid Island-Pacific Rim, DeLuca is a life member of Safari Club International, a controversial Arizona-based group that has donated at least $60,000 to help the pro-trophy hunting BC Liberals win the upcoming election.
RELATED: U.S. trophy hunters pass the hat for Christy Clark
In 2014 DeLuca auctioned off a unique experience at SCI's annual Las Vegas convention: a chance to kill a trophy Vancouver Island black bear in the company of himself and a famous U.S. fighter pilot, Scott O'Grady. The prize went for $30,000 USD.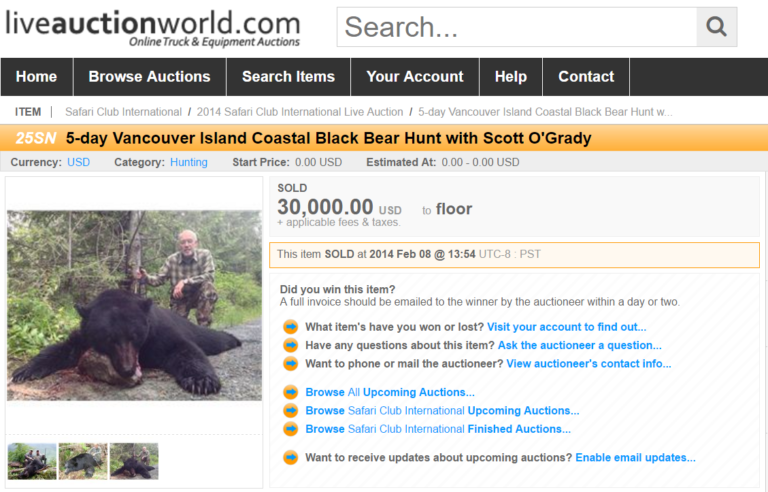 "Proceeds from this hunt support SCI's Super PAC," reads the auction listing, which is still online as of this writing. SCI-PAC is a multi-million-dollar political machine that boasts of having helped elect 147 pro-trophy hunting politicians to Congress.
Safari Club International celebrated a victory last week after President Donald Trump – whose adult sons are avid trophy hunters – repealed a law protecting bears and wolves in Alaska from hunting methods considered inhumane in most jurisdictions.
SCI's annual Vegas auction is a major event, offering trips to kill exotic species all over the world while supporting political advocacy. SCI has taken a special interest in defeating the BC NDP because of the party's pledge to end the commercial trophy hunt for grizzly bears.
RELATED: Killing lions for money to kill bears
Darren DeLuca is vice-president of the Guide Outfitters Association of B.C., the group pictured accepting a $60,000 cheque from SCI for election work in a now-deleted Facebook post. GOABC has lobbied vigorously to keep the grizzly trophy hunt open in British Columbia.
There is no permanent grizzly bear population on Vancouver Island. But DeLuca's Port Alberni-area luxury lodge offers visitors a chance to kill one of the Island's famous black bears, or try a close-range shot at a cougar. "Cougars are chased with hounds and treed," reads DeLuca's website.
DeLuca was also the BC Liberal candidate in the riding of Alberni-Pacific Rim in 2013.  According to his election financing report, DeLuca received a $2,500 donation from the Guide Outfitters association.
Other donations to DeLuca's campaign included $1,000 from Conservative Member of Parliament James Lunney, who later left the party after tweeting "stop calling evolution fact!"
DeLuca lost the 2013 race despite outspending incumbent NDP MLA Scott Fraser. The two will face off in a rematch on May 9. The Greens are running Alicia La Rue. Candidates' donation disclosure forms for the current election will be due 90 days after voting day.
UPDATE: Dogwood does more than write great stories. Our volunteers worked to make sure voters in the riding of Mid-Island Pacific Rim who shared our values got to the polls in May. Big Money candidate Darren Deluca was defeated.