Grumpy cat says 'Keep that crap outta my sewer'
Well folks, this has truly never happened before…
Concerned citizens were invited to provide input on a wastewater permit application for the proposed coal port at Fraser Surrey Docks. As you know, there has been overwhelming public concern about the project: from health officials to First Nations to municipal governments – not to mention 49,639 Dogwood Initiative supporters who've signed our Beyond Coal petition.
So the Metro Vancouver regional government decided to turn what's usually a behind-the-scenes bureaucratic process into an unprecedented opportunity for civic engagement.
You know how many letters about the permit would have been record-breaking? Just one. You know how many they received? At least 3,470 from our community and allies alone. That's huge!
The only thing that rivals how big the response was is how crazy the whole scheme is in the first place. It's bad enough Fraser Surrey Docks wants to transship U.S. thermal coal from trains and barges en route to Texada Island then bound for dirty coal-burning power plants in Asia – for which public input has been shut out or completely ignored – but to give them a free ride spewing their toxic waste into our public sewer system?
Even Grumpy Cat agrees dumping coal sludge into our sewers is a crappy idea…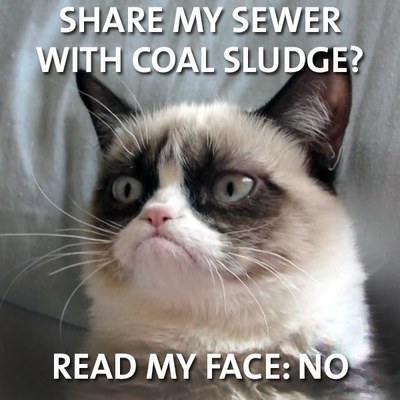 Lucky for us we've got more friends than this guy and were able to take to the streets at Lasqueti and Halfmoon Bay, in Tsawwassen and the North Shore, and at high schools across the Lower Mainland to collect comment cards from concerned British Columbians.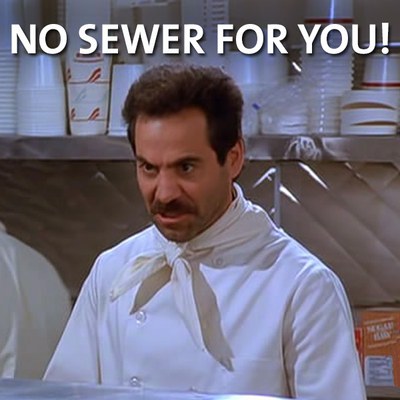 On a sunny Saturday afternoon on the Easter long weekend, Dogwood organizers Brenda, Shirley and Marianne walked along the waterfront at Steveston, engaging residents and tourists in conversation about coal exports along the Fraser River. The team gathered dozens of signatures for the Beyond Coal petition and collected sewage permit comment cards from new supporters.
Scott Van Denham, a Dogwood organizer from Burnaby, explained the situation perfectly in a letter to the editor in the Royal City Record: "The equation is simple: the more of us who express our concern to Metro Vancouver for our health and safety, our concern for harm to already-vulnerable fish habitat, the more reluctant they will be to issue a wastewater permit to the Port Authority. And with no permit, there is no coal port expansion. We can stop this bad idea before we regret it."
Altogether, concerned residents generated 2,897 online comments, 60 postcards and 350 letters from folks along the coal train route in the United States.
It'll be a while before we find out whether our two-pronged strategy of goofy social media memes and intensive local canvassing worked. There's no deadline for Metro Vancouver's sewage control officer to make his final decision about the permit, but we predict it won't be anytime soon. Those 3,470 public comments, expert critiques and ample intergovernmental feedback will not only be considered internally within the regional government, but will also be sent to Fraser Surrey Docks for their response.
In the meantime, Fraser Surrey Docks is facing other hurdles. In June the company goes to court to try arguing that the Metro Vancouver regional government doesn't actually have the authority to regulate air quality at port terminals.
This is a big deal. If Metro Vancouver loses, we lose our last hope for real local control and community input on major port operations and expansion proposals. If Fraser Surrey Docks wins, guess who takes over regulating air quality at port terminals? Port Metro Vancouver. And we're sure you remember just how transparent, accountable and democratic our port authority is… (sarcasm alert!).
That's the same port authority that approved a construction permit for Fraser Surrey Docks' coal scheme last year despite unprecedented public opposition and expert critique of its totally inadequate environmental and health assessments. Assessments that only happened because everyday British Columbians refused to accept that the port wouldn't conduct public consultation on this project – the port was forced to respond to the pressure of our movement mounted from community groups, local governments and health experts.
Our partners at Voters Taking Action on Climate Change and Communities and Coal have teamed up with Ecojustice to challenge the port's permit approval, and in the next few weeks the cities of Surrey and New Westminster will go to court to officially intervene on the side of the angels. The rest of the case is not likely to move forward until this fall or even later.
But if the Metro Vancouver regional government wins its jurisdiction case this summer, Fraser Surrey Docks will be forced to apply for an air quality permit. Metro Vancouver Director Ray Robb would decide whether to grant that permit after extensive public consultation and after asking for the full Health Impact Assessment that regional the Chief Medical Officers have recommended. Robb, unlike the industry insiders running the port authority, is appointed by a board of local mayors and councillors who are on record opposing coal export expansion on the Fraser River. He is far more likely to follow the lead of regulators in Washington state who are committed to getting the right data on particulate matter – the major air contaminant of concern when it comes to coal transport and public health – that they're extending the review of the proposed coal port at Cherry Point by a year.
Then there's the little matter of a provincial water permit, which seems to be last on Fraser Surrey Docks' to-do list, but still hangs out there before construction can begin on coal dumpers and conveyors on the Fraser River.
And those are just the regulatory hurdles.
The biggest hurdle may be pure economics. The price of Pacific Rim thermal coal has steadily fallen since 2011. Many analysts are now saying this isn't just a cyclical downturn – it's a permanent shrinkage (don't blame us, that's the actual terminology folks use). Even the CEO of Fraser Surrey Docks recently admitted, "The price of thermal coal in the marketplace has been dropping, which has forced us to relook at our operation."
Smart, stable investors are generally pulling their money out of coal and coal port proposals in particular. The big proposals remaining in Washington State – Cherry Point and Longview – are increasingly attracting "dark money": private equity firms and foreign speculators who are looking to make a quick buck on risky projects, not long-term profits off successful infrastructure. They don't care if they turn into boondoggles and stranded assets.
But the difference between Fraser Surrey Docks and those Washington projects is the latter actually have coal suppliers backing them. Fraser Surrey Docks, as we recently learned, does not have commitments from any U.S. mining companies to send coal to its facility.
If coal mining companies like Cloud Peak and Signal Peak who bank on exports aren't signing up to ship to Fraser Surrey Docks; if thousands of people are ready to take every possible opportunity – even sewage permits – to block its proposal; if market conditions have forced the company to review "some commercial decisions"… then why on earth is Fraser Surrey Docks still touting its coal-shipping proposal as a viable project?
Even though the economics don't add up, and communities along the way have declared a resounding no, Fraser Surrey Docks is still pushing ahead. It's totally wacky.
When faced with a totally wacky proposal, the only solution is to use common sense coupled with a strong organizing ground game and a bit of humour to make it go away. That way, not only will we win, but we'll have a lot of fun doing it.