What's A Public Hearing Without The Public?
Editor's Note: Dogwood Initiative's Kai Nagata applied as an intervenor in the Kinder Morgan pipeline review but was among the hundreds rejected. For this view inside the hearing room we rely on North Shore NOPE, one of the successful intervenors.
Janice Edmonds and I attended the first day of the hearings on Tuesday. We are intervenors in this pipeline review as members of NSNOPE (North Shore NO Pipeline Expansion), a community group based on the North Shore of Burrard Inlet. All three municipalities on the North Shore (representing ~160,000 people) are also intervenors in the NEB process and all have requested that the NEB deny Kinder Morgan's application.
Tuesday morning the Delta Hotel and Casino was ringed by fire trucks and police cars, with numerous staff circling the building for garnish. The lobby; flush with private security guards and extra hotel staff. On the floor where the hearings are being held there is a security guard every 10 metres. Needless to say we felt a bit anxious heading into the hearing room. The room is large, capable of seating 200, but there were only 100 chairs set out, with fewer than 15 people sitting there. Three were NEB staff, four were media, two were federal government employees, there were two people who left early and there was us.
The City of Surrey was presenting their final arguments. Like 90 per cent of the intervenors in this process, they are opposed to Kinder Morgan's pipeline proposal. The City of Surrey has close to 500,000 residents but NEB regulations allow only two participants per intervenor group to attend at any one time. It felt absurd, really: 30-40 police, fire fighters, security guards, an enormous NEB staff and just the two of us, sitting there, in an empty room.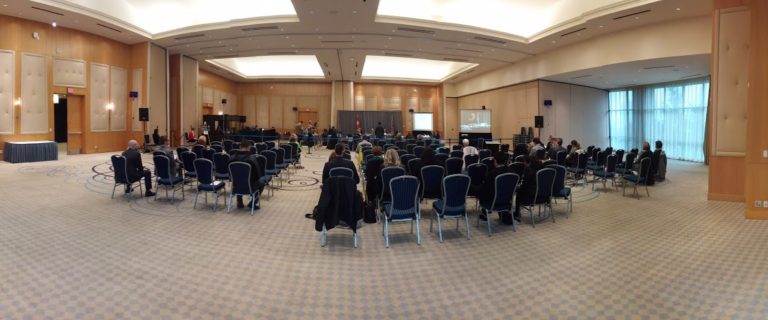 The previous Conservative government was intent on limiting participation and they have succeeded. This is a public hearing into a massive project that will in fact (a fact denied by the NEB panel) affect everyone and only a handful of people are able to witness the process first hand.
This NEB review has been a carefully orchestrated process designed to defeat the public. Knowing how many people will be affected by the outcome of this process and knowing how many people and groups have actively participated, for there to be only two witnesses outside of government and media is astounding. And the new Liberal government continues to allow the public to be shut out.
Luckily we are part of a gigantic community, full of spirit. The City of Surrey presented an excellent argument. The march and rally Tuesday afternoon were inspiring and loud – covered by all the news. And the presentations yesterday from Andrew Weaver, the City of Burnaby, the Katzie and the Coldwater Nations were on fire! Our little group has been so buoyed up by Tsleil-Waututh Nation and BROKE and Dogwood, PIPE-Up and Force of Nature, Wilderness Committee and Greenpeace and Forest Ethics and Living Oceans and Georgia Straight Alliance and more. The list is a hundred long and the membership of those groups is hundreds of thousands.
NS NOPE is there to witness the evidence of intervenors and we won't be stopped.
Chloe Hartley is a volunteer with North Shore NO Pipeline Expansion, a community group.