What do they have that we don't?
A thorough environmental assessment process on coal projects, for a start.
I took a little trip to Longview, Washington, the proposed location for the Millennium Bulk Terminal (MBT) coal export project, with my friend and colleague Mary. This is us at the public hearing just a few short weeks ago.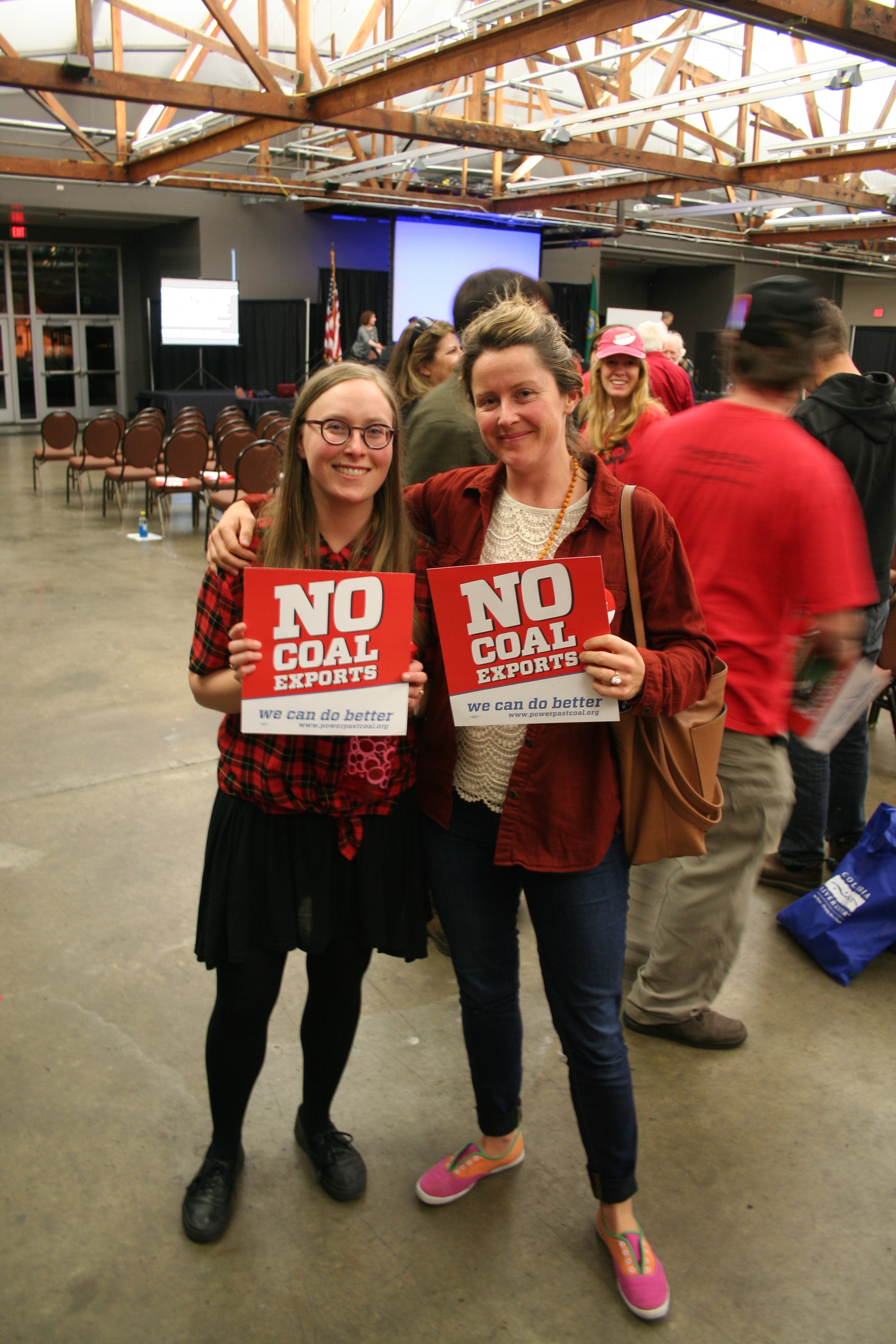 Coal companies aim to export 44 million tonnes (MT) of thermal coal through the Longview terminal per year. It's the last remaining thermal coal export project stateside, aside from two: A newer proposal in Oakland, California to export 8 MT; and our own local treasure, the Fraser Surrey Docks' ridiculous and undying proposal to export 4MT of Powder River Basin coal to start, with lofty ambitions of exporting 8MT per year eventually.
A whopping 1300 people showed up to the Longview Expo Centre, either wearing red or blue indicating what side of the battle they are on. The red team proudly held signs saying "No coal exports: we can do better". The blue shirts had signs eloquently articulating: "Jobs".
Folks in red giving testimony outnumbered the blue shirts four to one, and were the vast majority of attendees.  Verbal testimony was transcribed and counted towards a written submission. People could submit as many comments as they wanted throughout the public consultation process.
Attendees were not allowed to vocalize while people spoke, so flags were made up so folks could wave in agreement or flip their signs upside down out of disagreement.
There was a four person panel up on a stage — testifiers had numbers called out in lottery style, then stood on stage facing the panel. You had two minutes and would be asked to stop as soon as your light turned red. We went an hour overtime to hear from everyone who had a ticket.
I told my story in front of that crowd. I spoke about the impacts the Westshore coal terminal at Deltaport has had on the health of my community, my family and myself. I spoke about the black dust that coats our cars and our homes. I spoke about the impact on shellfish and crab populations in the Robert's Bank waters. And when the red light blinked, I said "Vote the 'no action' alternative" and walked off the stage while hundreds of red flags stating "We can do better" waved in agreement.
I felt so reinvigorated, like I was a part of a broad community of people committed to a better world. And I realized that despite several speaking engagements, this was far and away the most people I'd spoken in front of (at one time) about coal exports in my entire life — and I'm the Coal Campaigner at Dogwood.
I also realized this was an opportunity I had only been afforded once before, at the Port of Vancouver AGM — there has been no open consultation on the Fraser Surrey Docks proposal since I became involved in this fight in 2013. I had, however, spoken my mind out on the streets and in front of the Port's community office in Ladner. I've held rallies at the New Westminster Quay. I've met with politicians at every level of government. And with my amazing team of volunteers, we turned a bureaucratic exercise in rubber stamping into the only public engagement opportunity given to a permit consultation of this nature.  If you recall: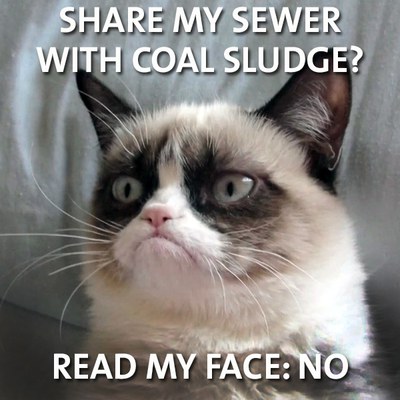 Our 30-day public comment period produced over 3470 comments on a liquid waste permit. This was unprecedented.
Our allies in the states generated 260,000 comments during their consultation process. It was a 45 day comment period for people to submit letters on a Draft Environmental Impact Statement (DEIS).
The decision makers involved on this aspect of the MBT project were Department of Ecology (state) and Cowlitz County. The decision maker on the liquid waste permit for Fraser Surrey Docks is one bureaucrat at Metro Vancouver.
This MBT DEIS was the product of the scoping conducted in 2013 – which also contained its own comment period and public hearings. Essentially, decision makers asked the community what impacts should be considered and, based on those, formulated this DEIS. Then the DEIS is subject to review, and the comments and feedback generated will be used towards the Final EIS – which the county and Department of Ecology review and then either approve or deny the project.
There are two environmental review processes for the project: one at state level, the other at the federal level.
As Dale Cooper would say: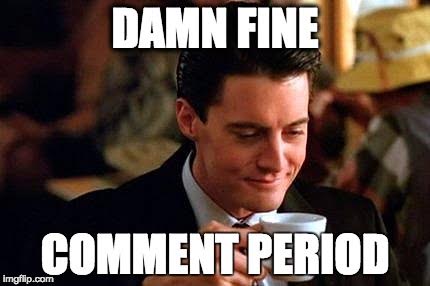 So let's talk about B.C., then.
Metro Vancouver, the political body representing 21 municipalities and First Nations overseeing the regional district, is responsible for two key permits on the Fraser Surrey Docks coal transshipment facility: liquid waste and air quality. They have absolutely been allies in this battle up to now, but there's a key moment coming up that will test their resolve on the liquid waste permit.
A port permit is already granted for this project — we engaged in their public comment period, but they approved the proposal anyway despite staunch opposition. Our partners are now in court arguing that the Port exercised bias in their approval, pointing out it was a done deal before they heard from us and that they failed to consider climate change. The court date on this is to be announced after some attempts by the Port and Fraser Surrey Docks working in tandem to throw the case out (a Supreme Court judge ruled against them).
The one place the province had to be consulted was for a Ministry of Mines permit for the Texada side of the project — now moot because that aspect of the proposal is scrapped. They could have called for health and environmental assessments, but continually claimed "that's not our jurisdiction". We recently realized this might be the result of the cash flow between coal proponents and the BC Liberals. Poor LaFarge (the company who would have been barging this coal to Texada) has given $43,588 to the BC Liberals since 2009, all to have that aspect of the proposal terminated.
We've successfully delayed this shortsighted project for over a year. We expect a decision on the liquid waste permit in the coming weeks, and we are looking for leadership from our municipal governments at Metro Vancouver to defend our communities from dangerous projects that could impact community health.
We can't approve coal terminals and also be the greenest region in the world. Local communities, health officials and governments are opposed. Even the Port of Vancouver thinks exporting thermal coal is a poor investment, according to what we heard from their CEO at the Port AGM this year.
Key municipalities will come out publicly against the project again when decisions are issued.
Public opposition is critical and must be expressed so Metro Vancouver councillors know their communities won't stand for increased coal exports through our ports, compromising the health and safety of our community. Metro offices will urge action — the role of the board is an open question, so we'll ask them to do whatever they can to intervene and ensure this project never moves to completion.
When you're stuck with limited opportunities to engage, you have to come up with your own. Dogwood will be ramping up efforts to ensure that your voice rings out every step of the way. We cannot let our opposition die because of an inadequate assessment process resulting from the Harper regime's decimation of the Canadian Environmental Assessment Act.
I have to believe, like Sam Wise, that there's good in this world and that our decision makers will listen to us when we stand up for our communities. I won't stop fighting until we destroy the projects holding us back from reaching our goals of a safe, sustainable B.C. for all.