Victoria draws the line against Trans Mountain
South Islanders draw a symbolic red line to say NO to the Trans Mountain pipeline and oil tanker project
Guest post by Dogwood volunteer Lynn Taylor
While the rest of us have had our hands tied by the COVID-19 pandemic, Trans Mountain has been pressing ahead with construction. Though only a fraction of pipe has been laid, the pace is picking up in the Lower Mainland. The company is cutting down trees, threatening salmon rivers and criminalizing Indigenous youth standing up for their rights and our children's future.
All along the pipeline route, communities are stepping up to demonstrate their determined opposition to Trans Mountain and to a government that is spending billions of our tax dollars on a fossil fuel export project in the midst of an ever-worsening climate crisis.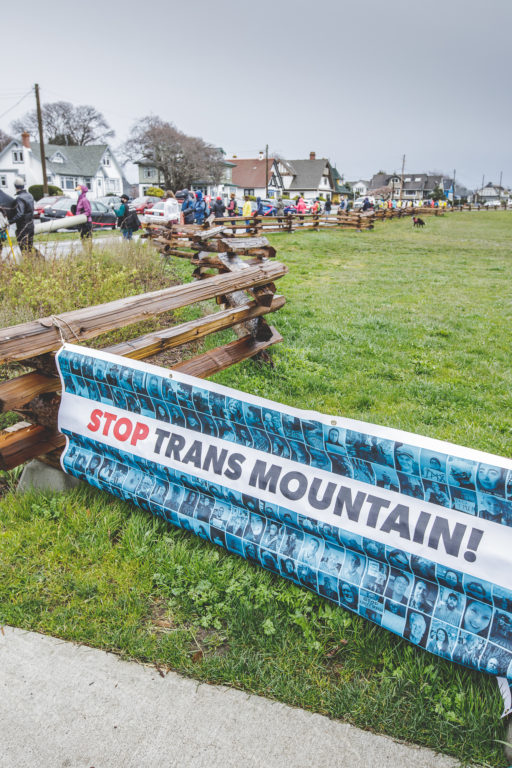 On Sunday, March 28, volunteers with Dogwood and many organizations held a COVID-safe event to show that the Island remains fiercely opposed to the Trans Mountain oil tanker project.
Demonstrators form red line along Victoria seaside walkway to protest Trans Mountain https://t.co/V08Cui27GO

— Oak Bay News (@OakBayNews) March 29, 2021
Rain, cold and gale-force winds couldn't keep over 150 dedicated souls from joining the Red Line of Resistance along Dallas Road. We stood safely distanced but joined by red rope signifying our commitment to stopping Trans Mountain and our solidarity with those on the frontlines resisting construction.
We were so bundled up with rain gear and masks it was hard to even recognize our friends there, but the spirit of camaraderie prevailed and we found folks from Orca Rescue, UVic Social Justice, CAPE, the Green Party of Canada, Narwhals and many Dogwood supporters old and new.
Proud to join constituents yesterday in calling for a 'Tanker-free Salish Sea!' with @dogwoodbc #StopTMX pic.twitter.com/1Bxjz00z6N

— Elizabeth May (@ElizabethMay) March 29, 2021
The mood was jubilant and even before the sun came out, I was mentally gearing up for the next rally. It's been too long since we've been able to show up, shout out and speak with one voice. We came together to stand with the youth marching in the streets, and to help build a better world for our grandchildren. We know that Trans Mountain is not a done deal: it's the fight of our lifetime, and it's a fight we can and must win.