Liberal poll numbers slide as Prime Minister smiles and waves to angry voters
I'm hungry.
That's what I was thinking on Thursday as I stood in the cold and rain for two and a half hours waiting for our Prime Minister to arrive at City Hall.
The day before, Dogwood had gotten a call from a supporter saying Justin Trudeau was going to be in Victoria. Not to take questions at a town hall like he did in other provinces mind you, but to meet with navy personnel at CFB Esquimalt for photo ops, then to take a 30 minute meeting with our mayor, Lisa Helps.
Charles, Dogwood's organizer for South Vancouver Island, blasted our e-mail list with an invitation to join us on the front steps of City Hall: "Join us for an 'Emergency Town Hall!'" If Trudeau won't let British Columbians ask him questions about the Kinder Morgan approval (that we darn well deserve the answers to), we'll just have to create the opportunity ourselves.
We asked folks to write their questions for Trudeau on a piece of paper and made plans to pin them together on a huge board for him to see as he walks into the building. Charles brought a microphone and amplifier so he could address the crowd. The turnout was in the hundreds, which is pretty big considering the last-minuteness of the visit, the weather and the time of day. Charles pumped up the cold masses with battle cry-style enthusiasm, and recited the questions people brought forward to him for Trudeau. Then we waited for the Prime Minister to arrive. And waited. And waited.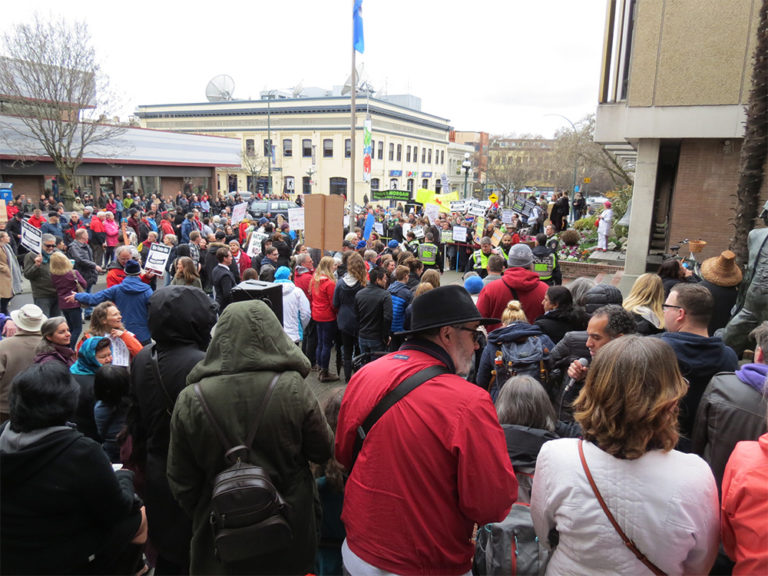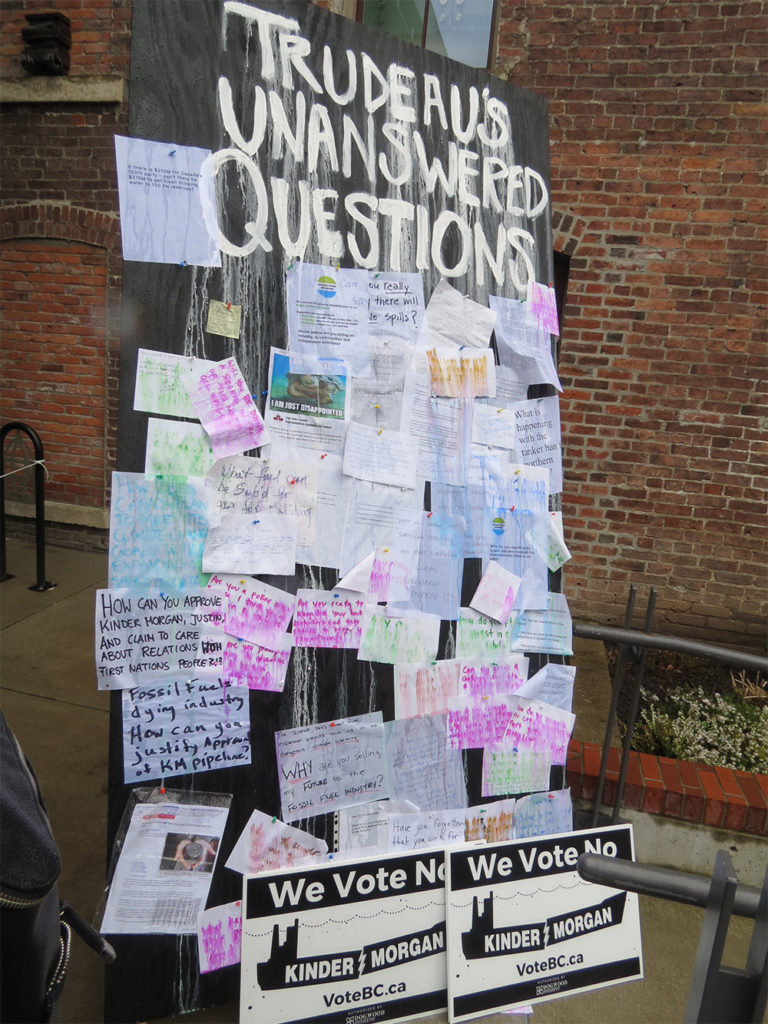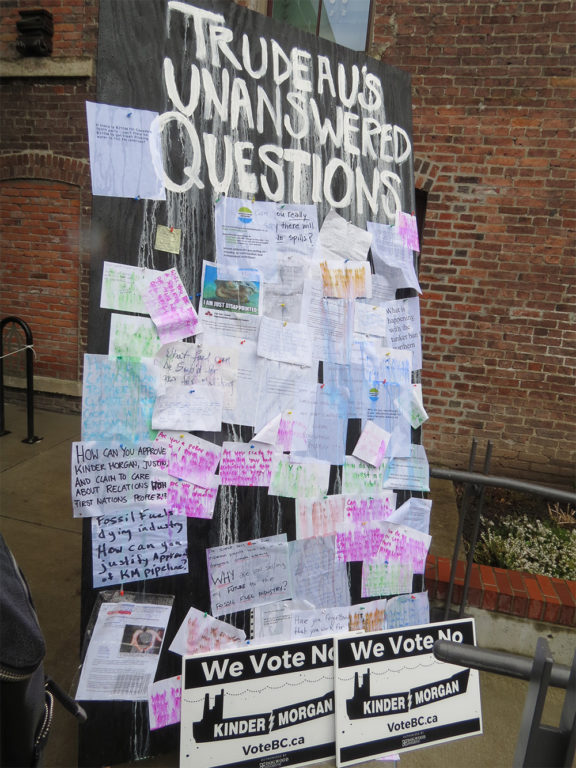 Like I said, he ended up being about two hours late.
While I stood there, getting very, very rained on, I really questioned Dogwood's purpose at the event. What did we hope to accomplish? He wasn't going to stop to talk to us. He certainly isn't going to change his mind on Kinder Morgan — the great and powerful Ottawa has spoken. Best case scenario he addresses the crowd with banal, meaningless talking points like "We can grow the economy AND protect the climate." (Just keep saying it, Trudeau. See if repetition makes the phrase even remotely true.)
When he finally did arrive, it was such a disappointment. He smiled, waved, shook hands, then within a minute, was whisked inside the building by his security. 'Ignored' would be the word I'd use to describe how most of us there felt.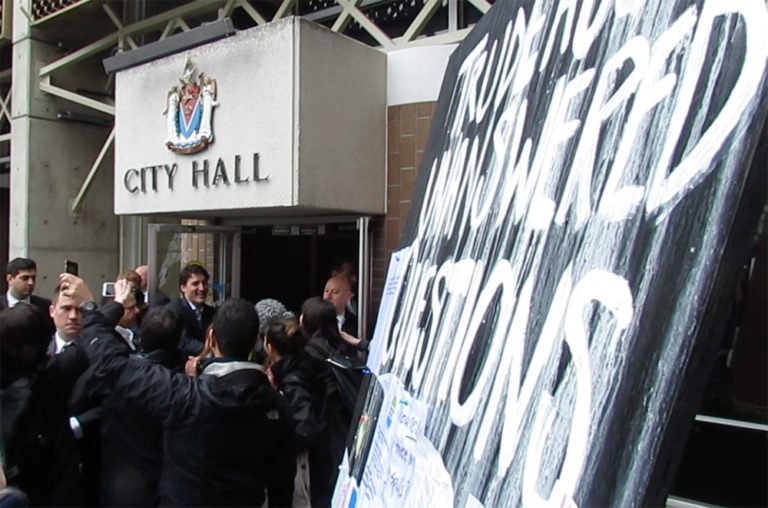 In that moment, I decided I'm pretty sick of politics. The reasons why decisions like approving Kinder Morgan are made don't seem to factor in the people a project like that would affect (like, everyone in the entire world). The calculations instead seem to include what's good for a politician's re-election, keeping donors happy, and, frankly, a lack of vision and bravery. Giving this billion dollar industry free rein has been standard operating procedure over the last several decades, but they have one foot in the grave and the other on a banana peel. What other similar scenario would have intelligent people investing in further development of this?
I knew being there to see Trudeau walk into a building wasn't going to change the world. But even after feeling cold, wet, deflated, powerless and maybe worst of all, hungry, I don't believe we wasted our time. We fulfilled a shared need, one that so many British Columbians are feeling denied of right now: To be heard.
We weren't there to bear witness to Trudeau's arrival. Just the opposite. We were there so he could witness us. And maybe that was better than any staged town hall anyway.
Even through his politician's mask, he could see us. He saw our questions. He knows he has a lot to answer for here. It can't be comfortable for him to show up for a meeting and be confronted by hundreds of dissatisfied voters, knowing these are just the people who could get the time off work. There are far more unhappy voters watching from home. This is when I start to like politics again. It can, has and will, work on our side.
The voters of B.C. will use their voice even if we're not afforded a town hall. We're a long ways out from the next federal election, but I won't forget how Trudeau has mishandled the land and people of this province, and I hope you don't either. I'm satisfied knowing he needs us more than we need him. And for me, that makes up for any amount of sloshing around in wet socks waiting to be ignored by the Prime Minister I have to do.
Want to take action in B.C.? Join a local Dogwood team!
2 Responses to "Trudeau dodges questions in B.C. Again."