Time to turn up the heat on B.C. politicians
Deadly wildfires are made worse by fossil fuels. MLAs need to end fracking, now.
Environment minister George Heyman now has a sidewalk mural the size of a bus to remind him of his core mission. It says "END FRACKING" and "protect our communities from climate disasters" in giant letters outside his office.
People across the province are getting frustrated watching politicians mourn the deaths and damage from climate disasters – then turn around and approve more fossil fuels.
Last week Frack Free BC teams in Point Grey, Victoria, Surrey, Nelson, Vernon, Powell River, Davis Bay, Squamish and Richmond hosted rallies to turn up the heat on local MLAs, demanding an end to fracking. Thanks to everyone who turned out!
Sadly, none of those politicians showed up at their offices to hear from constituents. In fact it's nearly impossible to get a meeting with a government representative if you're critical of the province's fracking plan.
In Surrey, locals said they tried several times to meet with MLA Bruce Ralston while he was the minister in charge of oil and gas. No dice. Meanwhile he met with industry giants like Petronas, Shell, Ovintive, Tourmaline, Fortis and Pembina Pipelines.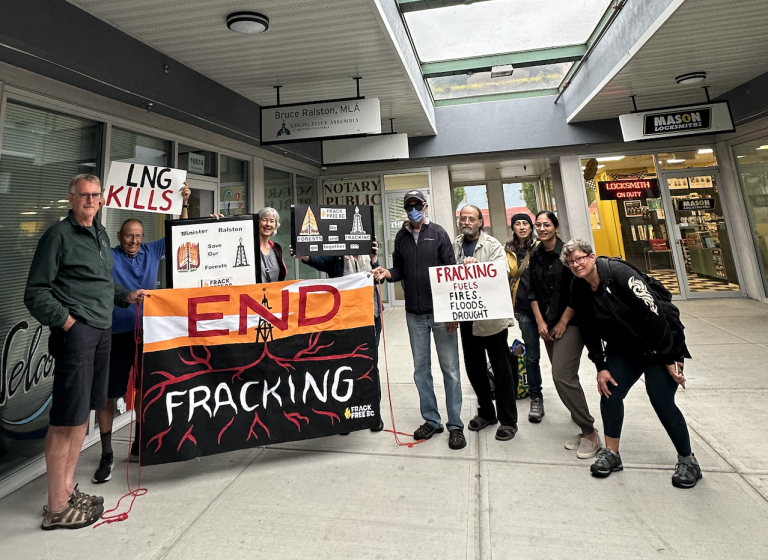 Our politicians and bureaucrats meet hundreds of times a year with oil and gas lobbyists. And through the sheer power of unlimited money and endless repetition, they've convinced our leaders that more fracking will save the planet.
It's a lie. And we need to push back every chance we get.
That means meeting with friends and neighbours, building in-person relationships and showing up together for the things we know are true. That's how we turn up the heat on MLAs – and also take the fight directly to the oil and gas industry.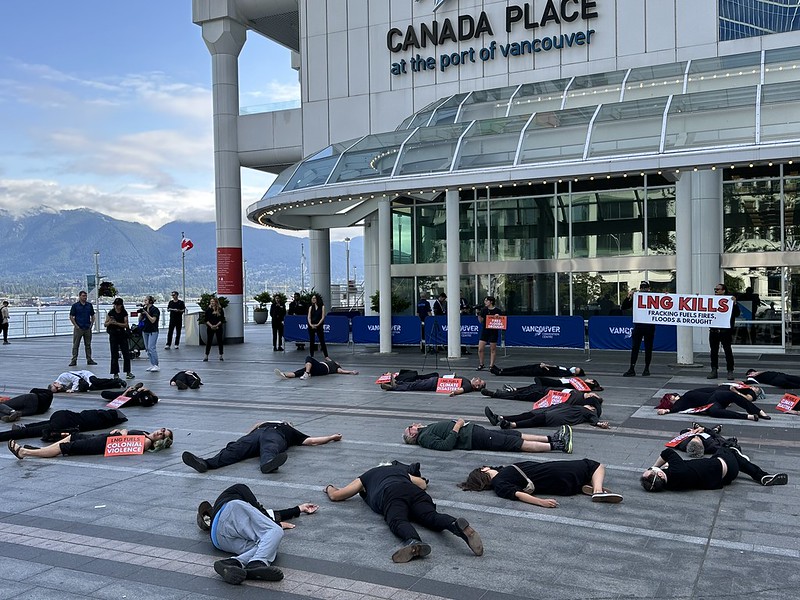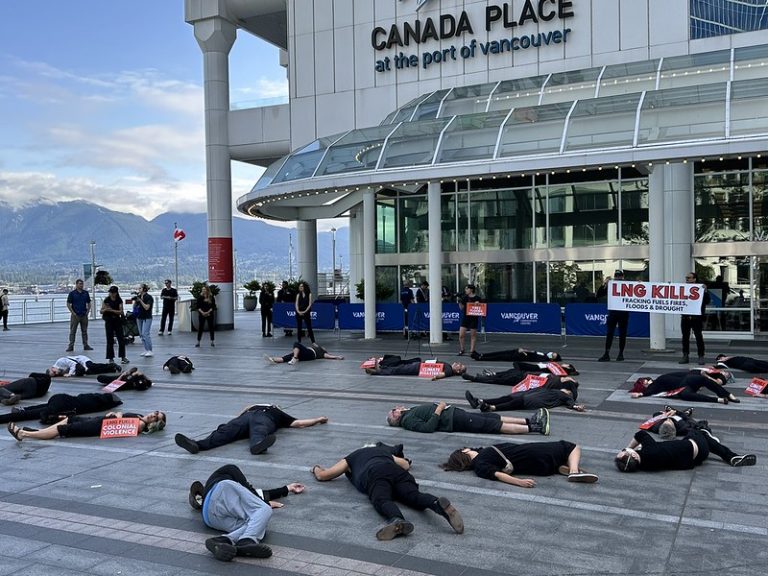 Last month Frack Free BC volunteers did just that, plugging up the entrance to the world's biggest gas convention in Vancouver. The "die-in" symbolized the growing death toll from fossil fuels. Executives and lobbyists had to literally step over people's bodies to get into their fracking fest.
And the public controversy did have a significant effect: the B.C. government didn't send any ministers to welcome this global gathering of arsonists. The federal government sent the lowly tourism minister, who talked about everything but oil and gas.
That tells us we're onto something.
We need to keep driving a wedge between the public officials whose salaries we pay, and the greedy corporations trying to use them as puppets. MLAs should feel uncomfortable being seen in public with oil and gas lobbyists. They should be ashamed.
Frack Free BC organizing with Dogwood and our allies will continue into the fall, with creative tactics to spread the word and grow our movement, and bold new actions to break the link between our lawmakers and the gas lobby. Sign up here to get a call from a Dogwood organizer.
Here are a few more photos from Frack Free BC volunteers this summer!