Industry backers have donated at least $720,000 to ensure Trans Mountain's provincial approval.
Last week Prime Minister Trudeau announced his approval of Kinder Morgan's Trans Mountain expansion because, as he'd have us believe, "it meets the strictest of environment standards." Trudeau directly addressed British Columbians with these words: "If I thought this project was unsafe for the B.C. coast, I would reject it."
From the National Energy Board and the Ministerial Panel reports, we know science and the environment were mere footnotes in this decision. We know both the NEB and Ministerial Panel ignored key safety concerns, including those posed about serious fire hazards and completely inadequate spill response. We also know approval wasn't based on social licence – our communities did not give consent to this pipeline.
So why did the federal government grant permission — and permits — to the Texas-based pipeline company?
Nobody can accuse Kinder Morgan of not working for it. Between meetings with Ministerial and PMO staff, including multiple visits to Trudeau's right-hand-man Gerald Butts and Natural Resources Canada staff a few weeks in advance of the Ministerial Panel report, they put their time in. In fact, Kinder Morgan met with federal representatives – Ministers and staff – a whopping 368 times in a five-year period. They specifically met with the Ministry of Natural Resources, responsible for creating the "unbiased" Ministerial Panel and modernizing the NEB, 107 times.
With this much access to key decision makers, it's no wonder Kinder Morgan was able to wedge their agenda into our government's action plan. Voters like you and I couldn't get that much face time with our representatives, let alone the Prime Minister's top adviser and confidant.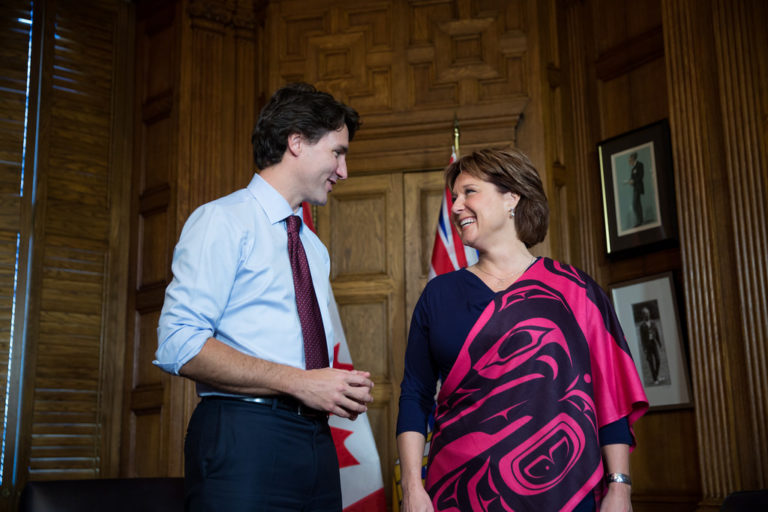 So now that Ottawa has shown its cards, all eyes turn to B.C and Premier Christy Clark – the next political roadblock for Kinder Morgan. Right now the decision is in the hands of B.C.'s Minister of Environment and Minister of Natural Gas.
As it did with the federal government, Kinder Morgan has worked the province from all the angles available to big corporations with endless lobbying budgets.
During the past five years, the company has formally lobbied provincial representatives 458 times. At the top of their itineraries were meetings with the Ministry of Natural Gas and the Minister of Environment. How convenient.
But it doesn't stop at meetings. Due to B.C.'s Wild West donation laws, companies — even foreign-owned ones like Kinder Morgan — can literally buy influence with their corporate chequebook. Taking full advantage of this, the Texas-based company has donated more than $33,000 to the BC Liberals.
All of those donations were made before 2015. After that? The trail goes cold. Kinder Morgan posted a statement on their website reading:

This makes it pretty difficult to find any further donations, as they are no longer attributed to "Kinder Morgan" or "Trans Mountain".
This self-regulation of donations is not because monetary persuasion does not work. Clearly Kinder Morgan has figured out the key to catching Premier Clark's ear, as well as a way to hide their wheeling and dealing from the public by no longer contributing to the BC Liberals under the company name.
But before that, the donations followed a pretty damning timeline.
On April 30, 2014, Trans Mountain wrote a cheque to the BC Liberals for $4,000. In April 2014, Kinder Morgan also held lobbying meetings with provincial government representatives about Trans Mountain. We don't know what exactly was discussed at those meetings, but that month it was announced that Kinder Morgan was planning to drill right through Burnaby Mountain.
In September 2014, the company wrote a cheque to the BC Liberals for $4,500, then received permission to start an intrusive survey on Burnaby Mountain. A couple months later, in November, when the Burnaby Mountain standoff was at its peak and protesting residents were being arrested, Kinder Morgan again lobbied the provincial government about its plans for Trans Mountain and, you guessed it, wrote a cheque to the BC Liberals.


Money and meetings. Kinder Morgan knows how to get things done. But these numbers only tell half the story.
Kinder Morgan is an oil pipeline, meaning it serves customers who want to transport their products from the tar sands to international markets. Thirteen shippers have signed on to use the pipeline expansion, including Nexen, Devon, Canadian Natural Resources Ltd., Cenovus Energy, Imperial Oil and Suncor.
This is where it gets really interesting. More than half of these oil producers have donated significantly to Premier Clark's campaign coffers.
Chinese-owned Nexen has donated $58,696 to the BC Liberals and, for insurance, $6,000 to the BC NDP. Devon has given the BC Liberals $75,805. Canadian Natural Resources Ltd. has given the BC Liberals $171,480 and the BC NDP $5,500. Cenovus has donated more than $85,400 to the ruling party and Imperial Oil has also donated $111,790. Suncor has given more than $48,000 to the BC Liberals and $6,850 to the BC NDP. Most of these companies donated in 2015, after Kinder Morgan's self-imposed "ban" on political donations.
On top of their generous political donations, Suncor, Nexen, Cenovus and CNRL have also lobbied provincial office holders. In September 2015, Suncor flew to Victoria with the explicit purpose of promoting Trans Mountain. That same month, Suncor donated $2,250 to BC Liberal campaign coffers. In October 2016, a month before the federal approval, Suncor again met with provincial government officials. Of course, Kinder Morgan's lobbyists were busy in Ottawa at the same time.
The Canadian Energy Pipeline Association has had a number of lobbying meetings with the province as well. Reasons for these included discussing "pipeline development" and, after October 2015, "social licence to operate in communities". Fair enough. It is the Association's job to advocate for pipeline development.
But I'm willing to bet those lobbying discussions specifically included Kinder Morgan's expansion. After all, Kinder Morgan Canada's President, Ian Anderson, was for a time the chair of the CEPA board — and the guy in charge of signing the donation cheques. He remains a CEPA board member.
When Anderson was in charge of the CEPA bank account, more than $15,000 was donated to the BC Liberals. After Anderson was replaced as Chair, donations from CEPA stopped.

The Canadian Association of Petroleum Producers are also big-time BC Liberal donors, giving the party $112,795 since 2005.
All in all, Kinder Morgan and industry bedfellows have donated almost $720,000 to the BC Liberals. And that's just the money we know about.
Without "real time disclosure," as promised by Premier Christy Clark, we have no record of donations since March 2016. So we won't know the real story behind the provincial decision on Kinder Morgan until April next year, when the parties file donation reports with Elections BC.
In the meantime, most British Columbians are expecting Premier Clark to rubber-stamp Kinder Morgan's expansion project. And why wouldn't she? On dozens of issues, it's clear Clark and the BC Liberals are happy to ignore citizens in favour of the companies willing to grease the palms of politicians.
Prime Minister Trudeau approved a fatally flawed pipeline after a few hundred lobbying meetings. Kinder Morgan has spent even more time lobbying provincial decision-makers than their federal counterparts, plus the added bonus of those hefty donations. And, heading into an election year, Clark is not going to bite the hand that feeds her by turning down Kinder Morgan.
We need to demand more of our governments, both federal and provincial. Decisions that impact B.C. communities should be made by the people who live in them.
Join the grassroots movement. www.BanBigMoney.ca
Update: The amount included above was calculated with information available at the time. Here is an updated total, based on the BC Liberals  2016 donor records.
40 Responses to "Like Trudeau, Premier Clark will approve Kinder Morgan. Here's why."