North Island Election Report
I finally woke up a couple of days ago with enough creative energy to sit down and put some thoughts to paper about my experience in Canada's 42nd general election. A full month had passed since opposition parties stormed to resounding victories in Vancouver Island's two northern ridings – both held by Conservatives for the better part of two decades. Going in, my election resume contained the following: I had voted in every election, volunteered once to put out campaign signs and worked as a Returning Officer in another. That's it. More than many for sure, but in a country whose interest in democratic participation over the past twenty years has fallen dramatically, it's not difficult to stand out.
I have to say I was a little surprised at how beat-tired I was. Knowing full-well how hard the 50 or so Courtenay Alberni volunteers who joined Dogwood's #elxn42 campaign worked, I shouldn't have been – yet the physical and emotional toll it takes running a third-party voter turnout engagement caught me off guard. Intellectually, I knew right away the effort was 100 per cent worth it – the numbers on Oct. 20 told a compelling story – but I needed that month (spent playing with my son or lazily casting a fly to the last push of Chum heading up the Puntledge River) to come to grips with what had happened.
When I heard DFO managers explain stock losses live on the radio for the first time in four years and then read the mandate letters to the minister instructing him to reopen the Kitsilano Coast Guard base and work out how to enact a North-Coast tanker ban, it began to seep in. Undoing the damage Harper's Conservatives had done do the B.C. coast had begun. As British Columbia's largest nonpartisan political organization, we had reached the point where we felt we had a muscle that needed to be flexed. I was grateful to play a part in that, and I'm happy to share part of that story with you.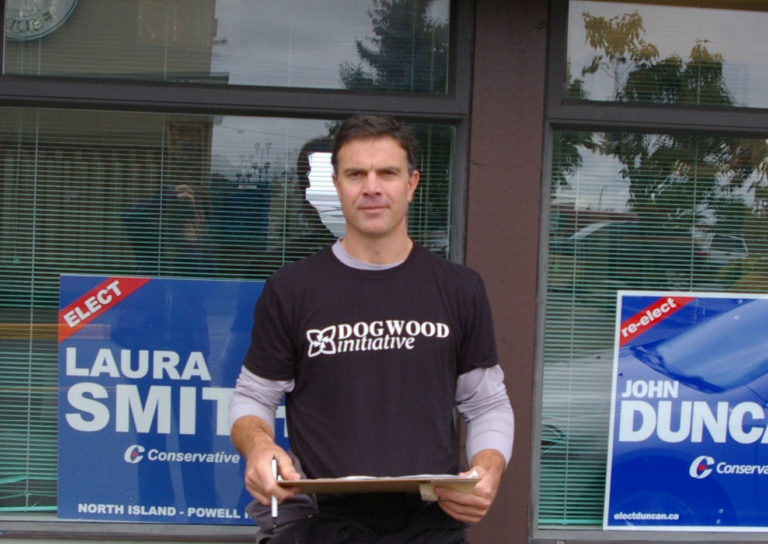 As a snapshot, this graphic explains just about everything you need to know about #elxn42 – but keep reading! Of course this election wasn't directly about Dogwood's issues any more than it was about B.C.'s in the end, however: the narrative that Dogwood kicked off in 2011 (when we backstopped the stand against Enbridge and said "it's our coast, our decision"), well, that indirectly ran through everything. From the Maclean's debate to the NDP's confusion about how to play the coast against the interior in its pipeline stance to the absolute trouncing the Conservatives took in coastal B.C., pipeline politics consistently came to the fore and shaped the way this campaign unfolded.
Dogwood as an organization decided a couple of years ago we would be intervenors in the 2015 federal election, and last fall's engagement in the municipal elections was a dry run. We battle-tested our plan, absorbed the learnings and put the finishing touches to our strategy this past January. The question we posed was this: could we assemble the needed votes in multiple, riding-level political contests to unseat MP's who put Big Oil's interests before their own constituents? We believed that a large enough turnout of well-informed voters would keep pro-tanker, pro-coal candidates from capturing a majority of seats in British Columbia and all of our information and projections suggested that would suffice to prevent a national Conservative majority.
Planning and acting – two sides of the same coin
Next up, how to turn it into achievable action. Dogwood campaigns are structured around a theory of change. As an issue-driven organization with varying field capacity in 23 B.C. ridings, our strategy was to encourage supporters to vote for candidates with compatible values, a strong record of action and a good chance of winning. But our theory of change had to take into account this organization's number one priority, our people: supporters like you who sustain us, volunteers who make everything possible – as well as the organizations dedicated and overcommitted staff who work extremely hard. This was not a risk-free proposition.
Therefore, our theory of change had to to ensure that if our organization was going to commit the resources donated by people like you, we had to not only come out of this election intact, but on as solid of a footing as we were at the beginning. Second, we felt that in order to be successful, we had to be realistic, so our targets were established around two key elements. 1) Organizational capacity. Could we deploy enough field power? 2) Winnability. Would deploying that field power affect the outcome? In the north island we initially focussed on two ridings – Courtenay Alberni and North Island Powell River. After some early internal polling and additional information from the field strongly indicating dismal support for the North Island Powell River Conservatives, the decision was made by local teams to allocate resources to the riding where the race was tightest.
The race in Courtenay-Alberni

So, what happened in Courtenay-Alberni anyway? Well, it's elementary, my dear Watson: targets happened. We set them, and we met them. It really is that simple. What's not so simple, however, is meeting as large a target as the one we set: to grow our supporter list in Courtenay-Alberni to 10,000 people AND make sure every single one of those people knew that VoteBC.ca was the place where candidate surveys and polling lived. At the end of the day, we felt our supporters needed to know three things: did opposition candidates share their values? What were their chances against the incumbent John Duncan (the well-funded and extremely confident party whip of the largest, richest political machine ever assembled in Canadian history)? And did they have the basic information (proper ID, poll locations etc.) needed to exercise their franchise? We felt if they had the information at hand to answer those questions, well, we weren't going to insult them by telling them who to vote for.
New Courtenay-Alberni MP Gord Johns
Now unfortunately I can't risk my job by blurting out a bunch of trade secrets on how Dogwood specifically organizes around elections. Who knows, we might want to try it again one day… say, in 2017. I did however have the opportunity to see the inside of other third-party attempts to influence this election's outcome, and by way of comparison it highlighted a couple of things that our campaign got right: first, it's very difficult to manufacture an election campaign at the last minute. Second, it's important to stay focussed on core issues. I recall attending a labour-sponsored conference where the national organization unveiled its five point action plan… right after running a media workshop where they taught us "the public cannot keep track of more than three things."
Despite millions of dollars spent, labour's messaging seemed unable to stand out in the crowded field that is the centre-left. Even when you cut through the noise you're still faced with stiff competition from well funded national organizations like Leadnow trying to motivate mostly the same voters to do somewhat the same thing. It can, and did, get messy. Which brings me back to the importance of planning and sticking to a winning narrative, which in our case was defend our coast, and rebuild our democracy.
Okay, I'll reward your patience for still being with me and take that risk by spilling some trade secrets (I'm pretty sure most staff are too busy trying to fig
ure out what the heck to do with Trudeau to notice…).
During the pre-writ period we utilized standard face-to-face methods to bolster our supporter base. During the writ period we relied on the phone. The 'win' number was always a moving target. We stayed
non-partisan. We kept laser-focussed on turnout using both public polling and IVR to assess pro-tanker support and targets. We contacted 209,875 supporters across 23 ridings. We fielded 854 volunteers who made 42,551 live calls. We organized 475 phonebanks, canvasses, data entry parties and trainings. We received 7,431 hits from our IVR program, sent 18,301 text messages as well as 180,000 emails. We (YOU) funded 23 riding level polls. In addition, our local team bolstered those tactics by placing dozens of signs around the riding, providing in-field visual cues to all of the above.
Where we failed, which is somewhat obvious in retrospect, is that we were not aggressive enough in communicating our story or how our approach differed from other organizations who shared our goals. An inordinate amount of national media attention was focussed on strategic voting and endorsements. The decisions that we took around endorsements/partisanship/strategic voting resulted in people on the ground like me taking a wide range of flack from a whole bunch of people, parties, and non-allied organizations. To the immense credit of the brains behind this operation, we stuck to the plan.
A layman interprets the results
Let Me Be Perfectly Clear. I do not possess a degree in poli-sci. Though the riding of Courtenay-Alberni had the highest level of organizational engagement out of Dogwood's high-focus ridings, it still proved very susceptible to national trends. As predicted internally, the NDP national campaign cratered. Though impressive, the wide margin of the local opposition victory owes much to the late bleed-out of the progressive part of the Conservative party vote to the Liberals.
The overall percentage of NDP support declined 7 per cent from 2011 and with turnout as well as population growth up respectably from 2011, it's clear they weren't connecting with change voters. Our data suggested 40 per cent of identified Green supporters voted strategically. They are unlikely to do so again. The Liberals seeing the late upsurge will go for the win next time, and Conservatives will have ample opportunity to re-brand themselves. My bet is we've seen this riding's last two-way race. Unless the MP proves to be extraordinary (I have to say that I'm optimistic on this front), holding this seat will be a much bigger challenge in 2019 than winning it was in 2015. Thanks for staying with me as I dabble in electoral analysis. Back to what I'm more familiar with.
The key to victory: turnout
Dogwood's 50 volunteers throughout this riding and others who piled in from outside to lend a hand played a significant part driving a 13 per cent increase in voter turnout from 2011. At 76.6 per cent, it was the third highest in the province. If you add the pre-writ pledge conversations to both pre-writ and writ period cold-calls as well as supporter calls, we conversed with 9,215 people in this riding. That is an astounding number and I'm certain those Get Out the Vote efforts factored into this riding seeing its highest turnout levels in a quarter century.
Through all these contacts we collected as much voter intention information as possible. In aggregate we developed a pretty good understanding of what was happening on the ground in Courtenay-Alberni as election day approached. We also have a good understanding of who voted strategically and who voted according to partisan interests.
Dogwood's efforts since 2011 describe a sustained, non-partisan, issues-driven opposition to government policy resulting in major setbacks for pro-tanker forces in this country and the complete reversal of the political fortunes of those who enabled them. Because we remained non-partisan, communication lines are open and we are already engaged with MP's in the new government.
Coincidentally, these successes bookend our five year plan and as the year comes to a close, we begin anew and I invite you to help out with the important work of entrenching those hard-won victories while at the same time, repositioning the organization to tackle key problems that are important to you – like electoral reform and moving away from fossil fuels. In fact, I have a favour to ask of the people who make Dogwood what it is: step forward with your bright ideas and stand shoulder-to-shoulder with those who brought you the No Tankers campaign. Our organizers and volunteers are fanning out across the province to engage and listen to the heart of this organization. Get in touch with them, or me, or any of us. It is your commitment to change, and your willingness to get involved that motivates us to work as hard as possible on your behalf.