A citizens' guide to the Nanaimo by-election
This is more than just a by-election. The results could decide B.C.'s future.
The stability of B.C.'s government hangs on a by-election in Nanaimo later this month.
Tony Harris is the BC Liberal candidate in the riding. He is a self-proclaimed real estate speculator and businessman who got his start working for his father's chain of auto dealerships. Journalists mocked his campaign launch last weekend, which appears to have brought out fewer than 15 people.
Here's a taste of his social media presence: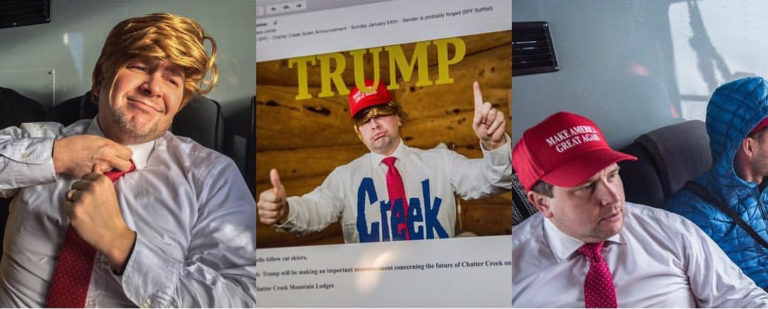 From Tony Harris' website on January 7, 2019 :
"Tony enjoys real estate speculation and early-stage investing; Tony Harris Keeps It Real Estate Inc. and Tony Harris Enterprises Inc. support these interests."
People in Nanaimo and all over British Columbia say they are deeply concerned about the housing crisis. Putting forward a candidate who enjoys dressing up as Donald Trump, or speculating on real estate, seems like a risky move for the BC Liberals. While in government, they were accused of turning a blind eye as criminals laundered billions of dollars through the real estate market — driving up housing costs for everyday families. Meanwhile, the party raked in millions in political donations from property developers, while individual MLAs profited from the crisis.
Tony Harris has since deleted "enjoys real estate speculation" from his website.
What's at stake
Nanaimo has historically been a stronghold for the NDP — but this is no ordinary election. If Tony Harris manages to take the seat for the BC Liberals, there will be an even 43-43 split between the NDP-Green alliance and the BC Liberals in the legislature. That certainly won't make for a stable government and could force a general election.
Sheila Malcolmson — the candidate for the BC NDP — is well-known in Nanaimo. She was an elected member of the Islands Trust starting in 2002 and became the Member of Parliament for Nanaimo-Ladysmith in 2015. She stepped down as MP last month to run for MLA. If elected, she has committed to push for more affordable housing in Nanaimo, rebuild local health care and education facilities and fight to defend our coast from oil tankers.
The Green Party candidate is Michele Ney. Her last name is famous in Nanaimo because her father Frank Ney was mayor of Nanaimo for 21 years. He also served as an MLA for one term. Michele Ney is a retired teacher with deep roots in the community. At her campaign launch last weekend she committed to take action on housing affordability, invest in public transportation in Nanaimo and tackle climate change.
Aside from the three major parties, three other candidates are running as well. The BC Libertarian Party is fielding Bill Walker while the Vancouver Island Party's candidate is Robin Richardson. The BC Conservatives have put forward their interim deputy leader, Justin Greenwood, as their candidate in Nanaimo.
Down to the wire
This race is going to be close — according to a Mainstreet Research poll, it could be a dead heat. That's why every vote will count. The parties know the future of our province rests in the hands of Nanaimo voters — and the rest of B.C. is watching closely.
Election day is January 30, with advance polls open January 22-27. Check out Elections BC for details on where and when to vote.