How many death blows can one pipeline company take?  
I'm Irish, so I love a good wake, but the slow death of Enbridge's oil tanker pipeline proposal to Kitimat is getting ridiculous.
The Federal Court of Appeal overturned the Federal Government approval, ruling Ottawa failed in its duty to consult with Aboriginal people before giving the green light to a controversial pipeline proposal to link Alberta's oil sands to British Columbia's north coast. The ruling is just the latest nail in the coffin of the controversial project that refuses to die.
It's natural for living beings to be driven to stay alive, sometimes even invoking supernatural feats of strength or determination to do so. What I didn't realize until years of watching Enbridge wither on the vine was that this desire to stay alive, to breathe even one last breath, is true not only of living things, but also of fossil fuel proposals to ship dirty bitumen to Asia.
How many death blows can Enbridge's ill-fated project absorb before it's put out of its misery?
A lot, apparently. After the court decision, Enbridge Northern Gateway's president, John Carruthers, issued his usual "don't worry, be happy" statement, saying Enbridge will continue to consult with Aboriginal groups, "but is still committed to the project."
I feel sorry for Mr. Carruthers having to be optimistic while his bitumen-leaden pipeline oil tanker proposal is fatally crippled and taking on water. When I first met Mr. Carruthers more than a decade ago, he confessed he was hopeful to guide this west coast pipeline to completion because his last few projects had been kyboshed before being built. My advice to him then, as it is now, was he should start looking for another job — this project will never be built.
The Federal Court of Appeal struck down the Federal Government's approval on the grounds that the affected First Nations had not been adequately consulted and accommodated. The Court concluded,
Based on our view of the totality of the evidence, we are satisfied that Canada failed in Phase IV to engage, dialogue and grapple with the concerns expressed to it in good faith by all of the applicant/appellant First Nations. Missing was any indication of an intention to amend or supplement the conditions imposed by the Joint Review Panel, to correct any errors or omissions in its Report, or to provide meaningful feedback in response to the material concerns raised. Missing was a real and sustained effort to pursue meaningful two-way dialogue. Missing was someone from Canada's side empowered to do more than take notes, someone able to respond meaningfully at some point. Para 279 page 119
The Court acknowledged that it was a complicated case involving 18 appeals and judicial reviews from eight First Nations, four environmental groups and one labour union all concerning three different administrative decisions: (1) the Report of the Joint Review Panel, (2) the Order in Council made by the Governor in Council and (3) the Certificates made by the National Energy Board.
So what does the court ruling mean?
It's all up to Trudeau's cabinet now
Now that its approval has been overturned, the fate of Enbridge's proposal is squarely before Trudeau's cabinet. Since Trudeau promised Enbridge would not go ahead and that his government would impose a legislated oil tanker ban on British Columbia's north coast, it would be logical to assume his cabinet will quickly reject the project. Logic aside, this is political and it is clear Trudeau's government is between a rock (the overwhelming opposition amongst British Columbians) and a hard place (pressure from Alberta, China, Big Oil and Bay Street financiers for a tidewater pipeline). His government clearly doesn't want to be the bad guy saying "No."
But there is a lot more riding on Trudeau's choice than just the outcome of one ill-fated project. British Columbian First Nations will be looking to Trudeau's chosen path forward as the litmus test of whether his desire for reconciliation has integrity or is just another attempt to spin the status quo.
Enbridge's last gasp
For Enbridge, the Court decision is the latest cut in the death by a thousand cuts. Since the permit is now invalid, their attempt at a three-year extension from the NEB is now moot. Enbridge continues to face a seemingly insurmountable set of obstacles: the vast majority of British Columbians strongly oppose their project despite being inundated with a decade's worth of propaganda, the B.C. government is officially opposed and none of its five conditions have been met, and now the Federal approval process must be rebooted. All the while, there's a legislated oil tanker ban just on the horizon that will make the proposal impossible.
Also, after 12 years of trying, Enbridge still doesn't have even one binding shipping agreement to link Alberta oil producers to the pipeline.
Back at the beginning of this boondoggle, Kinder Morgan intervened in Enbridge's Joint Review process telling the NEB they should refuse to hear Enbridge's application because that lack of binding shipping agreements meant the proponent hadn't demonstrated the project was  "commercially viable." I bet  after this court ruling the NEB wishes it had taken that argument more seriously.
First Nations have leverage
British Columbia First Nations are in a strong position to play hard ball with both Victoria and Ottawa. First Nations now have two court decisions saying the approval process the Crown used was inadequate to address their concerns. In the Gitgaat case  this past January, the B.C. Supreme Court ruled that although the provincial government had the authority to delegate the assessment process to the feds under the Equivalency Agreement, this did not give them the power to relinquish the final approval over areas of provincial authority, particularly in relation to First Nations. This Federal Court of Appeal's ruling means that B.C. First Nations also get a "do over" from the federal cabinet.
Fatal blow or flesh wound?
For British Columbians concerned about their coast, this decision is just another step towards the project's death certificate. But Enbridge so far hasn't accepted the project's inevitable demise, perhaps because Chinese state interests have funded them to keep going despite the depressing odds. Based on their statements today, my guess is that Enbridge will continue to push forward like the famous black knight guarding the bridge in Monty Python's The Holy Grail. No matter how many lacerations are inflicted, no matter how many limbs are lost, they continue to insist it is just a flesh wound.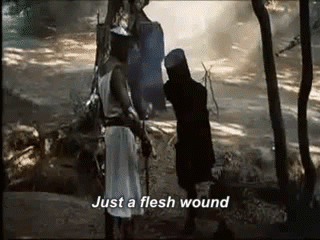 So to the hundreds of thousands of British Columbians that oppose expanding oil tankers off our fragile coast, I'm reminded of the old axiom: "Democracy requires eternal vigilance." We have come a long way, we have built a formidable wall of opposition, we have defeated elected officials championing the project, and we will continue to fight in the streets, in the boardrooms, in the courtrooms and at the ballot box until the project is put to rest once and for all.
Enbridge is on its last legs, and its fate is squarely in the hands of Trudeau's cabinet. While he has said the right things, however uncomfortable, now is the time to move beyond words and take decisive action. British Columbia voters — particularly Dogwood's teams in key ridings — are keeping a close watch, and will be taking steps to make sure Trudeau acts on his promises.
While I like a good wake like any true Irishman, I'm ready to bury Enbridge's coffin once and for all. My guess is you are too. Stay tuned.
7 Responses to "Merely a flesh wound, or is Enbridge finally dead?"