Killing lions for money to kill bears
Did Safari Club's B.C. election cash come from infamous Vegas wildlife auction?
Call it "pay-to-slay" politics. Safari trips to kill exotic animals like lions and elephants may have helped raise cash aimed at influencing the upcoming B.C. election.
In February, Safari Club International held its annual convention and "wildlife auction" in Las Vegas. A few weeks later, the U.S.-based lobby group boasted on Facebook about a $60,000 donation to "prevent the NDP from getting elected and ending the hunt," referring to the commercial trophy hunt for B.C. grizzly bears.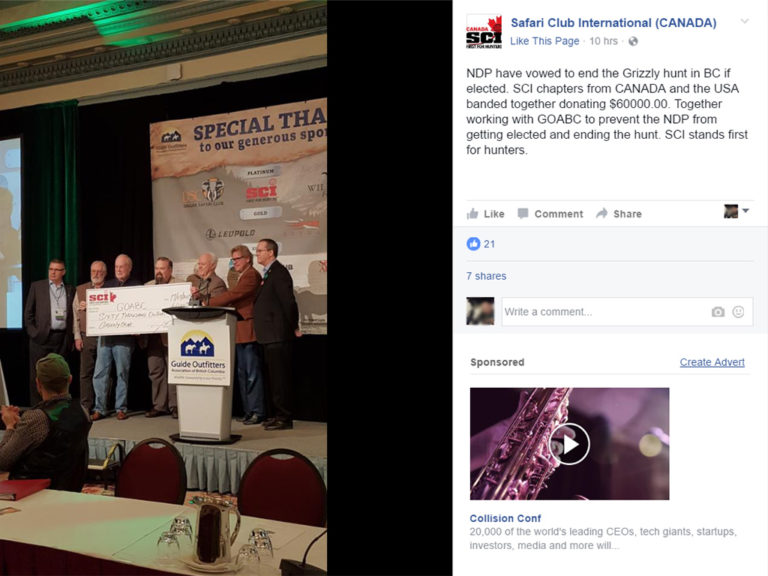 A well-oiled political machine
According to Humane Society International, SCI's Las Vegas auction raised US $14.4 million in 2015 alone. The money explicitly funds campaigns to expand and promote trophy hunting (video below).
For example, in January SCI filed a lawsuit against the U.S. Fish and Wildlife Service. The group was fighting an Obama-era law protecting wolves from being killed while inside dens with their cubs. It also prohibited using aircraft to scout for grizzly bears, trapping bears with wire snares or luring bears with food.
Yesterday President Donald Trump repealed that law, which covered federal wildlife refuges in Alaska. Safari Club International claimed victory.
SCI also runs its own political action committee or "Super PAC," boasting that SCI-PAC has helped elect 147 pro-trophy hunting politicians to Congress. One was Ryan Zinke, the Montana congressman tapped by the Trump administration to serve as Secretary of the Interior, overseeing hunting, wildlife and federal land management.
Zinke is described as a "hunting buddy" of Donald Trump Jr., who reportedly picked him for the position. Both Trump sons are avid trophy hunters and supporters of Safari Club International.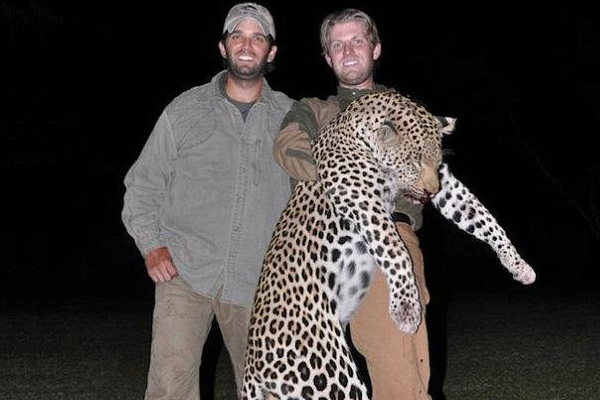 Extent of B.C. contributions unknown
SCI has refused requests by media to explain the B.C. election payment. Same goes for the Guide Outfitters Association of B.C., which appears to be the recipient of the $60,000 novelty cheque.
The original Facebook post has since been deleted.
It's unclear how much money SCI has funnelled into B.C. politics over the years, or how the donation to GOABC will be used. The Guide Outfitters are frequent donors to Christy Clark, and lobby vigorously to maintain the commercial trophy hunt.
B.C. has no laws against foreign or corporate donations in politics, but does prohibit indirect contributions. If money is laundered through an intermediary and ends up in party coffers, the people responsible may face jail time.
Last week a special prosecutor was appointed to advise the RCMP on its ongoing investigation into political donations in British Columbia.
Undercover footage of the annual Las Vegas auction may be viewed here:
For daily articles and videos about B.C. politics, follow Dogwood on Facebook or Twitter.