Dogwood's newest staffer is an expert on horse races – four-legged and political.
My name is Lisa. I love horses, I like to travel, and I know every line from Arrested Development. And, as the Campaigns and Communications Coordinator, I am also the newest addition to Dogwood's communications team. So Dogwood blog readers, you and I are going to be spending a lot of time together.
My main takeaway from my first week at Dogwood is that my new co-workers are obsessed with stories. Origin myths, epic journeys, mismatched battles, TV dramas, news reports, and most of all, each other's stories: the events and choices by which this ragtag group of strangers all found each other.
This could be because everyone loves a good superhero origin story and, with its abundance of super strength activists, Dogwood is sort of like Professor X's Mansion. Possibly it's also because, as superheroes, their powers lie in their own stories, and by getting me to tell you my origin story, I am starting to earn my "Lasso of Truth".
I have quickly learned that when people ask me about myself, they don't want my LinkedIn bio or elevator speech; they want to know my journey: "What series of events led you to us?" At first this was a really difficult question to answer.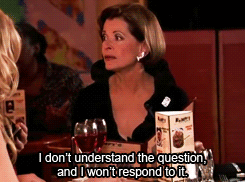 For me, it was not a series of trials I had to overcome, emerging on the other side a justice-seeking crusader. It was more like who led me here. The answer, in short, is my kick-ass grandparents.
When I tell my story, it often begins with my brilliant, bold, brave maternal grandma Lois. She was part of the first cohort of women admitted to study veterinary sciences in Canada, left an unhealthy marriage at a time when no women did, and won a precedent-setting legal battle. You could see her white head of hair marching from miles away and she swore like a sailor. We nicknamed her "Drama Gramma". She had a big heart and a fiery temper, which is the perfect combination for an activist.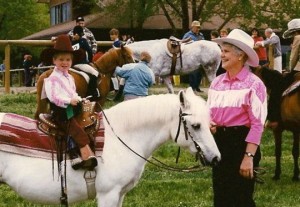 Grandma Lois, me, and Tinkerbell
When I was growing up in Vernon, B.C. we had a big small-town debate about the fate of the local horseracing track. As a prominent member of the thoroughbred community, and one who never backed down from a fight, Grandma immediately got involved. Figuring that by this point her opposition, the City, knew well enough not to brush her off as just a little old lady, she dragged along 12-year-old me, to throw them off guard with my big blue eyes.
By the way, my experience at the Vernon Kin Racetrack was not in gambling; I focused primarily on whispering words of inspiration into their giant ears to help them win. My family had unique parenting methods, but tended to frown on children placing their weekly allowance on the exactor. My sister and I would have bet on the prettiest horse, which is not the best strategy, but probably not the worst.
Grandma Lois encouraged me (read: I had very little choice in the matter) to write a letter to the editor of our local paper about how important the racetrack was to me. My main argument was about how much fun it was there, a critical issue to a 12 year old (the subtext was that my parents let us eat junk food there).
Not only did my letter get printed in the local paper (which was clearly short on contributors that week), I received a bit of notoriety because of it. Rebuttals and letters of support dominated the small town media (pre-Facebook this involved the local paper and old-fashioned gossip); town councilors began quoting me in their meeting minutes. And, more importantly, the track stayed open for another 15 years. It was my first attempt at community action and it had worked.
I grew up in a family that hunted, fished, and gardened. My Italian immigrant grandparents (over to my dad's side now, the Sammartinos) understood that you are only as good as what you eat, and we ate a lot of delicious, healthy things. I don't think I ate processed meat until I was a teenager, and now I am the epitome of a human being.
As important as what you ate was who you ate with. My grandparents hosted family dinners every Sunday night. To them, family meant everyone: friends, neighbours, travellers passing through, or people they found on the side of the road.
Once we were watching the news at their house and a story came up about the drug crystal meth. My Nonna, Antoinette, exclaimed: "we know her!" Every head in the room turned sharply. Turns out, they had picked up a young hitchhiker and driven her to another town, 45 minutes out of their way. When asked her name, she replied: "Crystal Meth", and Nonna said: "What a pretty name."
My Nonno, Boonie, believed that when everyone ate together, you were all equal. So, everyone they met was invited to dinner, everyone ate together, and everyone contributed to the dinner in his or her own way.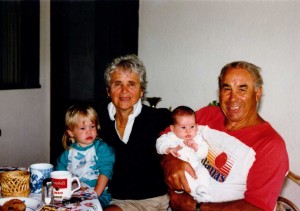 Nonna, Nonno, my sister, and I, sitting at the aforementioned table.
At my Nonno's funeral in 2006, a local Okanagan band member, Dave, got up and told a story about how the two had met. Dave had been walking on the side of the road when my Nonno drove up and asked him to help him clean up his favourite beach. Later my grandfather hired Dave to help with his garden. Each day Dave came to help with the garden, but he noted that my grandfather would normally do all the gardening and just liked to have company. Then my Nonna would make lunch and they would all sit together and eat. Every day for that whole summer.
When I left my hometown to study Social Work at UBC Okanagan, I found others like me: people who felt this drive to make the world a better place. I did my practicum in Finland, helping settle refugees seeking asylum in the EU. This experience amplified my interest in global human rights issues and structural change. This drove me to undertake a Master's degree in Human Rights at the London School of Economics and Political Science. Although I was studying in England, my heart and mind were still in Canada, reflected in my dissertation on a gendered analysis of the Canadian Residential School system and its legacies.
I spent the last three years working in the constituency office of a Member of Parliament in Surrey, Jasbir Sandhu, where I married my Social Work education with the structural framework of my Master's degree. In this role, I did a bit of everything: communications, legislative work, event planning, and advocacy work for constituents.
Coming from a human rights background, it may seem strange that I ended up at an organization known for its environmental campaigns. But if you're a Dogwood supporter, I'm sure you have made the connection. Dogwood's grassroots organizing is focused on helping everyday people win back their agency – and agency is the backbone of human rights, well, any advocacy work.
We know that Dogwood is about more than just the environment; it's about taking control of the decisions that are important to you, your family, and your community. It is about being part of a large network of like-minded people trying to make the world a better place. In this project we are all equals, and we each bring our own piece of the solution to table. My family could not have prepared me better for this.
As a social change advocate, I am excited to now be working with Dogwood Initiative. I'm looking forward to story sharing with my fellow Dogwood-ites (Dogwoodians? Dogs?) (edit: I have since been told that the phrase is "WoodDoggers"), and to what we will accomplish together.
I'm curious to learn about the journey that led you to this work (or at least to reading this blog). I hope we get a chance soon to have that conversation. In the meantime if you have ideas for people I should meet or stories Dogwood should be following, please drop me a line: lisa@dogwoodbc.ca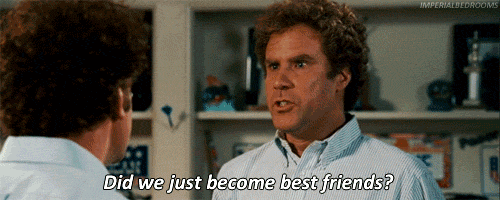 Why yes, Will Farrell and the readers of this blog, I believe we did.
6 Responses to "Why I'm Betting On British Columbians"