Historic coal victory in Washington increases pressure on B.C.
As Trump takes the wheel, U.S. thermal coal is looking for a way off the continent
The denial of a key permit by the State of Washington has left the largest proposed coal facility on the West Coast of North America high and dry. The proponents of the export terminal in Longview, Washington failed to obtain an aquatic lands sublease permit, dealing a major blow to an industry already struggling to transport U.S. thermal coal to markets in Asia.
The public lands commissioner who denied the permit cited the company's inability to provide a coherent financial plan or a record of their current financial status. The questions considered by the Department of Natural Resources were: Who will clean up the mess made by this massive coal port? And who would pay for it?
One major partner, Arch coal, had already dropped out of the project after declaring bankruptcy last January. Meanwhile, global prices for coal appear to largely rise and fall at the whim of the Chinese government, which can turn production on and off in response to domestic political pressure.
Last year, weak global prices had U.S. coal companies exporting thermal coal through B.C. at a loss. This was exacerbated by a supply glut as coal exporters angled to get their product to market before it was no longer economically and environmentally feasible. But with Trump taking office, the industry is praying for a turnaround.
What does this mean for British Columbia?
The Washington decision isn't much help in B.C., where environmental assessments are notoriously toothless, though it does help highlight the shaky economics behind these pesky coal expansion projects.
There are essentially two things that could happen following the historic victory in Longview:
Coal proponents finally throw in the towel, admit increasing coal exports doesn't make economic sense and drop pending proposals, like Fraser Surrey Docks, or:

Noting the opportunities to export this American product through American ports are withering like lungs breathing in coal dust, companies turn their attention to their friendly northern neighbours. This would increase the pressure to send U.S. thermal coal through B.C.'s existing and proposed ports.

Couple this inkling with the about-to-be-inaugurated, coal-loving president elect who vows to revitalize this grubby industry and where do we arrive?
Well, I'm not much of a betting person, but my inner skeptic prompts me to believe, or at least prepare for, hypothesis number 2.
It's also worth asking where Canada's thermal coal will go after power producers phase it out under the Trudeau Liberals' national climate plan. As the chart below illustrates, the coal phaseout won't bring much relief to the climate, but it could add to the pressure on B.C. ports as everybody fights to get their product to China.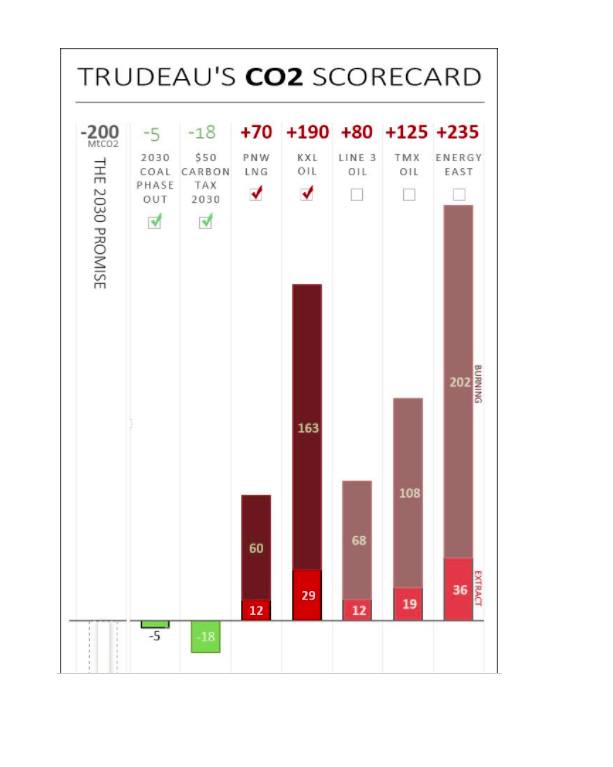 (Source: Barry Saxifrage, VisualCarbon.org)
Christy Clark says she wants to get China off coal as a means of energy production, calling it a moral obligation. Regardless of what you make of the LNG she hopes to export in its place, most people can agree that simultaneously increasing exports of U.S. thermal coal to China through our province is hypocritical at best.
If the premier would like to be perceived as a climate leader, she can't keep expanding the export of thermal coal.
Yet the Fraser Surrey Docks' coal proposal is still on the table, kept alive in part by a provincial government that seems more interested in collecting cheques from foreign coal companies than protecting the health of British Columbians.
U.S. thermal coal even gets a free ride through our province, since rail shipments over the border are not subject to the carbon tax paid by B.C. coal producers. With the stroke of a pen, the next Premier could remove this subsidy and generate revenue by charging out-of-province coal producers a levy equal to their share of the B.C. carbon tax.
That alone might squeeze out marginal players like the broke, desperate companies behind the Longview mega-terminal proposal — which would be good for people's lungs and the global climate.