Hermione Granger & the battles ahead
Welcome to Dogwood, Sophie! 
I first picked up a Dogwood clipboard at age 17, eager to stop the onslaught of tar sands pipeline and tanker expansion through British Columbia. As a young person in Vancouver concerned about climate change, these projects were the most direct manifestation where I lived of the Canadian government's willingness to prioritize the interests of deep-pocketed oil companies over a livable future for my generation.
Fast forward a few years, and I am honoured and thrilled to be joining Dogwood's staff team as a Campaigns & Communications coordinator. I am most excited about the power of telling our stories – yours and mine – to bring people together and create lasting change for our communities. I'll get us going by sharing a bit about me.
As a kid, my role models were two other frizzy-haired ladies: my mom and Hermione Granger.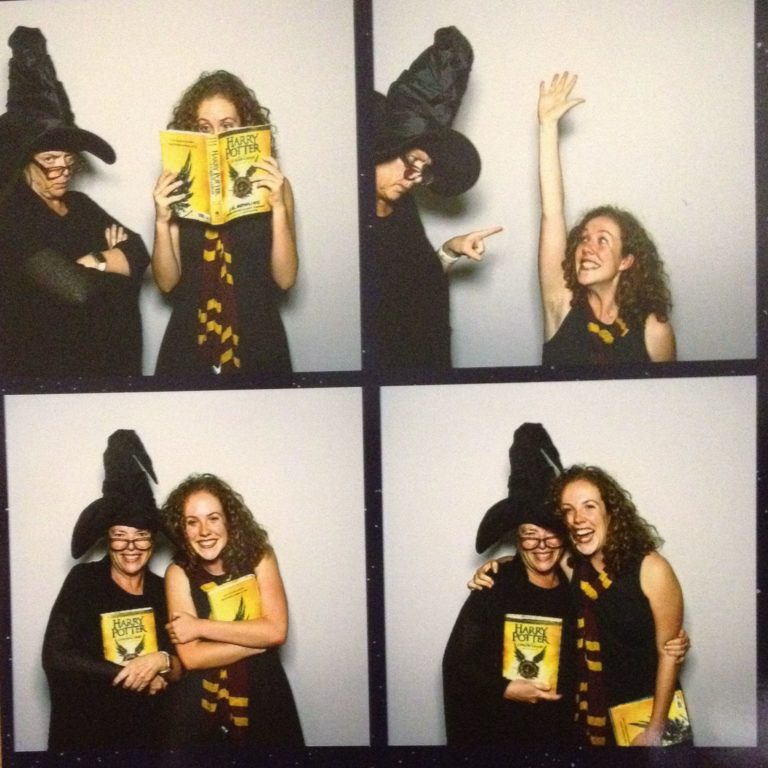 Mom and me in costume this summer as Professor McGonagall and Hermione Granger
My mom grew up in London, Ontario. Her dad was a drafting teacher at the local high school, and her mom was a manager at a drive-in movie theatre. My mom chose to study chemical engineering at a time when there were just a handful of other women in her class. She first moved out west for a summer internship in the Alberta oil fields. A few graduate degrees later, she would settle down in Vancouver where she has been a professor of environmental policy at UBC for more than 20 years.
In fact, both my parents are political scientists, and climate change politics have been a topic of dinner table conversation for as long as I can remember. My mom explained how the Canadian government had no plan to meet its climate change commitments under the Kyoto Protocol. I learned Canada's carbon emissions were actually increasing – driven almost entirely by the growth of the tar sands.
Above all, I learned climate change would have devastating impacts on the world I would inherit  and maybe one day raise my own children in. Their concern about my future is what makes the climate change fight so deeply personal to my parents.
Growing up in B.C., I watched our spectacular evergreen forests turn orange then grey from climate change-driven pine beetle kill. Our local salmon fisheries, which First Nations have relied on for centuries, are already feeling the impacts of our changing climate and will be further devastated in the years to come.
Still, the impacts of climate change elsewhere in the world may be even more deadly as drought drives more famine and conflict and the rising seas displace millions of people. My heart aches knowing many regions around the world may see only more violence and more families forced to leave their homes in the decades to come.
Like many millennials, I was terrified of the world I was inheriting, and coped by constantly reading, and re-reading, the Harry Potter series.
The true hero of the books, Hermione Granger, was in many ways just like me – a bookworm, a total nerd, definitely not the coolest kid in the class. We both had big bushy hair, big front teeth and muggle parents. (The owl carrying my letter of acceptance to Hogwarts School of Wizardry unfortunately must have gotten lost crossing the Atlantic.)
In Hermione's fifth year at Hogwarts, (*Spoiler Alert!*) the evil Voldemort has returned, and the Ministry for Magic's response is wholly inadequate. Unwilling to acknowledge the scale of the problem nor implement any policies to address it, the Minister for Magic Cornelius Fudge goes as far as interfering at Hogwarts (enter Dolores Umbridge) to stop the professors and students from preparing themselves against the rise of Dark Magic.
Now, Hermione wasn't the famous "Boy Who Lived," destined for greatness like the title character Harry. She was a regular witch, busy trying to ace her Hogwarts coursework and exams. But when she saw a major evil brewing, with the grown ups clearly unwilling to take action, she took matters into her own hands. She mobilized her fellow students to learn the necessary magic themselves by starting their own organization, Dumbledore's Army (named after the Hogwart's headmaster).
Back in the muggle world (aka real life), it was terrifying for me to realize our institutions were broken and there was no hero coming to save the day. My parents, despite their compassionate wisdom, lacked Dumbledore-like powers to magically fix the problem. And as a teenager in the Harper era, I learned that politicians don't necessarily respond to truth, to science or to moral arguments. They respond to power – something I, still too young to vote but quietly emailing the Prime Minister, did not yet have.
My friends and I got together to form "Kids for Climate Action," a ragtag group of high schoolers performing climate change-themed flashmobs and organizing bike rides to the provincial legislature. So began my activism, singing in the streets alongside my childhood playmates, soccer teammates, and fellow theatre students from my school.
My friends of Kids for Climate Action, after biking 75 km from the Lower Mainland to Victoria to deliver our petition to the provincial legislature
It was magical. We were meeting with MLAs, we were reaching voters, and above all, we didn't feel so powerless any more.
As a 16-year-old engaging in the political process, I learned that democratic engagement extends far beyond showing up to the ballot box once every few years. And though political leaders could not always be trusted to do the right thing, I knew my neighbours, friends and family had my back. Together, we could find ways to hold our decision-makers accountable.
I have spent much of the last four years in the San Francisco Bay Area studying economics at Stanford University. The record-shattering California drought was a constant reminder of our climate change challenge, but I was also surrounded by inspiring research, like the possibility of powering the world solely with wind, water and solar. In response to student pressure, Stanford became the biggest U.S. university to divest its endowment from the coal industry. It later announced holding no tar sands company stocks either, purely because they are now a poor investment. How bout that, eh Trudeau?
I always felt the pull back home. I usually traveled by train from California to Vancouver, and loved watching the landscape change as we traveled north through Oregon's mountains, up the coast of Washington State, finally into Pacific Central station in Vancouver. During the hot California fall, I would eagerly await my family's annual New Year's Day polar bear swim in the Salish Sea.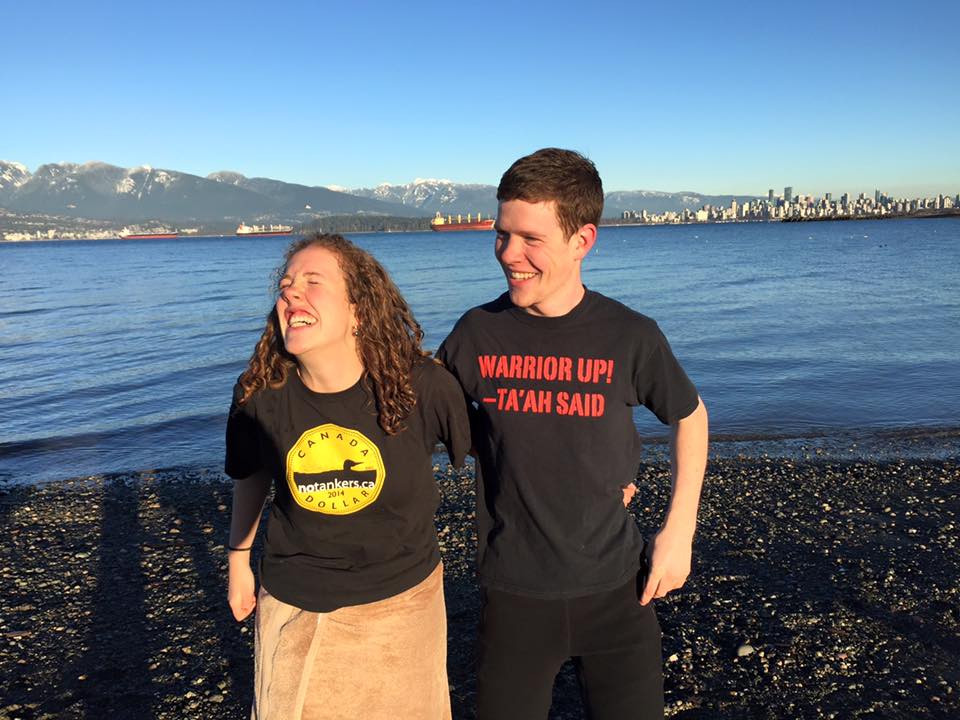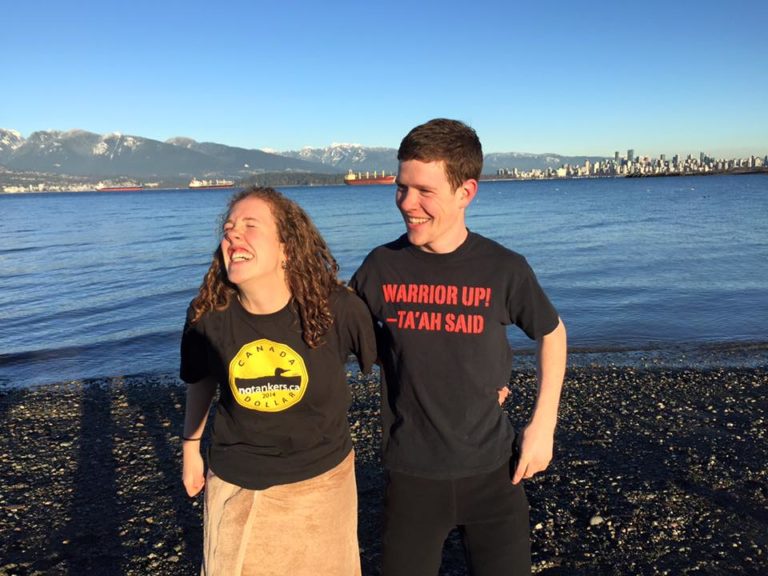 My brother Sam and me after our family's annual New Year's Day polar bear swim. (Probably laughing at my mom, who's behind the camera.)
With just months until the federal government's decision on the Kinder Morgan pipeline, I cannot think of a more critical time to be back at home with my family, my neighbours, and the province-wide movement to stop the expansion of dirty tar sands and coal exports through B.C.
Prime Minister Trudeau's Liberal government got elected with record voter turnout from young Canadians like me. We heard him promise real action to keep global climate change below two degrees and a new Nation-to-Nation relationship with Indigenous peoples – both promises inconsistent with new bitumen pipelines through B.C.
After so many years of broken promises from our governments on these issues, we are watching for the "real change" Trudeau promised and we are here to hold him to it.
Raised on the magical work of J.K. Rowling, I do enjoy a good story. I would love to hear your story too. Feel free to connect with me by email at sophie@dogwoodbc.ca.
I can't wait to get down to work.