A "full frontal" assault on Kinder Morgan
The Raging Grannies take on the #KMchallenge with their signature flair
"Wearing outlandish hats & warbling witty lyrics the Raging Grannies want to have fun while addressing important issues." This is how the Victoria chapter describes themselves on their Facebook page. Nowhere does it say "Diving into frigid water in the buff to protest reckless pipeline projects." But they do that too.
This week the Raging Grannies here in Victoria invited Dogwood to bear witness to their version of the #KMchallenge: dropping their drawers and splashing into the cold waters of Thetis Lake. Notice they are not completely naked — on their heads and necks they still sport their signature frilly hats and colourful boas. And a walker to assist with the uneven terrain of the bottom of a lake.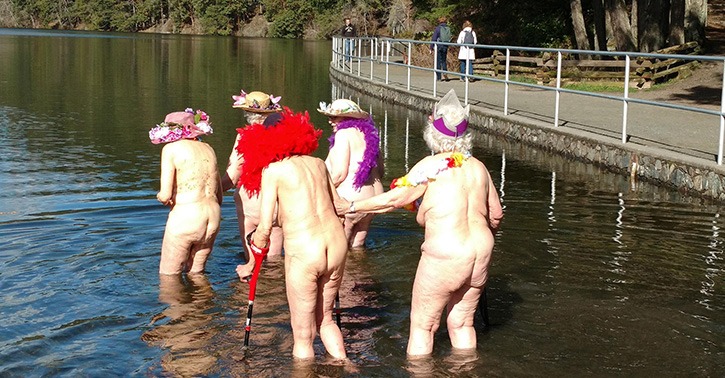 Photo credit: Patty Moss
Clearly the #KMchallenge has been embraced by all — the young, middle and old, by new Canadians and those who have lived here their whole lives. We are coming together from all walks of life to fight an injustice threatening our province: big oil's attempt to exploit our sacred land and water.
If I have the luxury of living old enough to become a Raging Granny, I will. Look at how kick ass they are — and this is only one example! Their motto to "use creativity and humour as a way to protest as well as educate on social and political issues" does not disappoint.
So if you are ready to make a statement like these rockin' ladies did, muster all of your inner granny rage and take the #KMchallenge! Film yourself jumping into a body of water you love in B.C. right now and post it to your social media channels.