The Great Divide
 A geographic rift is emerging between two competing visions for the future. They can't both win.
The fight between B.C. and Alberta over the Trans Mountain oil tanker project may seem unique to Canada's confederation.
It's not.
Across North America, coastal cities bracing for a century of climate chaos are finding themselves at odds with interior jurisdictions desperate to expand fossil fuel extraction.
On the West Coast, politicians in B.C. and Washington are talking aloud about a post-fossil fuel world. Meanwhile elected officials across Alberta, Saskatchewan, Montana, the Dakotas and Wyoming are doubling down on oil, gas and coal.
For now, those refusing to plan for decarbonization have powerful allies in Prime Minister Trudeau and President Trump. The Canadian Prime Minister recently decided to spend billions in taxpayer dollars to take over a major oil sands pipeline – while the U.S. president is mulling a bailout of that country's coal-fired power industry.
Coastal politicians are caught in a vise. On one side are constituents demanding that their leaders take a stand for their long-term safety. On the other side are interior provinces and states backed by industry and federal governments in Ottawa and D.C.
Fault lines
Underlying the divide over fossil fuel expansion are irreconcilably different views about what makes a safe, prosperous economy. It's not just a policy disagreement. We are witnessing a fundamental, existential debate about the role of government in a world facing environmental and economic collapse.
Can we overcome this divide and find a way to work together to slash planet-warming emissions, protect health and safety, and provide meaningful work for people?
Looking at the province-to-province and state-to-state relationships in Canada and the U.S., a happy resolution does not look promising.
Thomas Homer-Dixon and Yonatan Strauch asked in a recent Globe and Mail editorial, "Is Canada going to be the first country to break apart over the issue of climate change?" It's a dramatic proposition, but they point out that "the fissures in our federation over climate and energy policy are now extraordinarily deep, and there's little sign that they'll close soon."
It's not just Canada
In a situation that mirrors the battle over oil tankers in B.C., our neighbours in the Pacific Northwest have spent much of the last decade fighting off proposed mega-terminals for thermal coal exports.
Municipalities, Native American tribes and state governments have stretched their jurisdiction – sometimes in creative ways – to protect public health, coastal economies and Indigenous rights.
But the interior, coal-producing states are fighting back. They believe (or lobbyists have convinced them) that global consumption of coal will only grow. And they argue that coastal governments cannot interfere with export terminals, because the U.S. federal government has made expanding energy exports a priority.
The parallels to Canada continue. Thermal coal – like Alberta's oil sands – is landlocked in vast interior deposits east of the Rocky Mountains. And like bitumen, the domestic market for coal is drying up. Both the United States and Canada are shuttering dirty and costly coal power plants.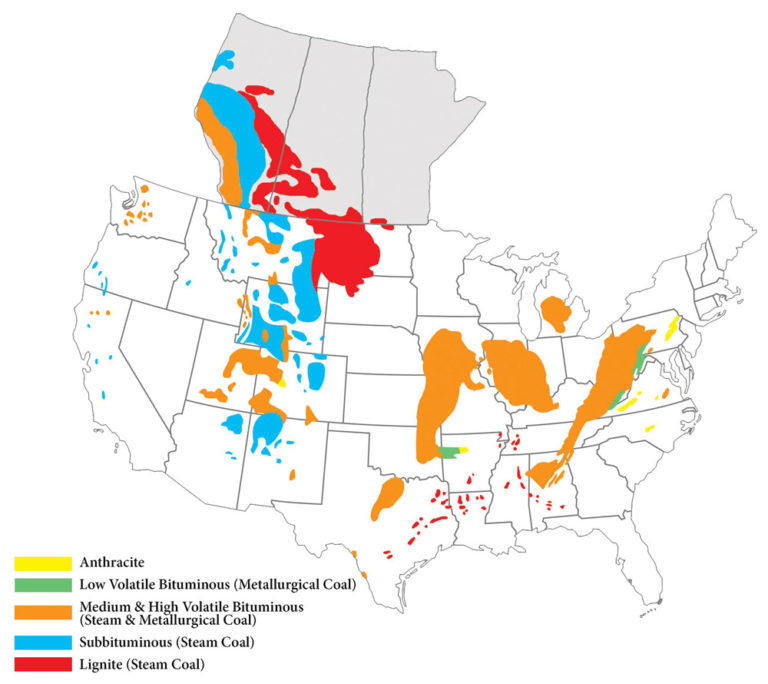 Chasing Asian markets
Like asbestos, coal is increasingly considered too dangerous for use in North American cities. But for U.S. companies, the health of people in India or China is not enough reason to shut down the mines.
So coal shippers proposed a series of massive export terminals on the Pacific Coast – six in all. Coal would travel by rail from the Powder River Basin and other interior deposits, out to port cities in Washington, Oregon or California for transport to Asia by tanker.
As of today, all six major export proposals have either been withdrawn or rejected by local regulators. Public health and safety, Indigenous rights, and climate damage were part of what led to these rejections.
In a climactic battle, Washington's Department of Ecology denied Millennium Bulk Terminals crucial permits to construct and operate the largest coal export terminal on the continent.
The state conducted a comprehensive review of the terminal, planned for a spot on the Columbia River not far from Portland, Oregon. The environmental assessment found the project would violate the Federal Clean Water Act and the Washington State Environmental Policy Act. So the state rejected it, concluding, "There are simply too many unavoidable and negative environmental impacts for the project to move forward."
Cue the backlash
In January, Lighthouse Coal, the owner of coal mines in Wyoming and Montana as well as the proposed Millennium Bulk Terminal, filed suit against Washington officials over this decision. Lighthouse claimed regulators had unreasonably discriminated against them and applied an unfair "embargo" on new coal exports. They accused state officials of being "philosophically opposed to coal."
Their argument – which will sound familiar to those following the Kinder Morgan story in Canada – is that state governments do not have the legal authority to block foreign trade or interstate commerce. In May, friends of the thermal coal industry joined the suit, piling onto the backlash against Washington state regulators.
"Washington State's actions are an illegal effort to interfere and obstruct interstate and foreign commerce of an essential energy commodity, in violation of the Commerce Clause," said millionaire Hal Quinn, head of the National Mining Association.
Meanwhile Wyoming and five other interior states filed their own court brief over the Millennium decision. They claim that by rejecting the terminal, Washington State is "trying to force on other states their policy preferences regarding the use of coal as a source of fuel, and thus, they are impeding the free flow of commerce."
New alliances
Washington State is not alone in standing up for the health of its communities and ecosystems – or that of people halfway around the world.
Coastal Indigenous peoples, too, are standing against the damage and risk of fossil export. The Bellingham port at Cherry Point, or Xwe'chi'eXen in the Lummi language, was rejected by the U.S. Army Corps of Engineers because of its impact on treaty-protected lands and fisheries. Former chairman of the Lummi Nation Tim Ballew II said, "We have a sacred obligation to protect this location for its cultural and spiritual significance."
In B.C., First Nations including Coldwater, Stk'emlupsemc te Secwepemc and Tsleil-Waututh have ongoing legal challenges to the Trans Mountain pipeline. They, too, see protecting the land, water and health of their people as more important than fossil fuel expansion.
Tanker spills, tank farm fires and pipeline ruptures are all real and immediate threats to coastal populations throughout B.C., Washington, Oregon and California. Meanwhile sea level rise, storm surges, heat waves and wildfires are increasingly a factor in decisions about long-term planning and infrastructure design.
It's no coincidence that local, state, provincial and Indigenous governments are uniting in their opposition to expanded fossil fuel exports on the Pacific Coast.
That puts them on a collision course with interior jurisdictions panicked by the prospect of declining demand for the fossil fuels they produce. The stark reality is places like Alberta and Wyoming will suffer serious social and economic damage if their assumptions about fossil fuel growth prove mistaken.
High stakes
Both futures can't come true.
The more Alberta or Wyoming policy-makers hide from the truth that the planet is warming and that burning fossil fuel is largely the cause, the more our populations will be divided. The more our federal governments dismiss municipal, provincial and Indigenous leaders alarmed by the risks of expanding fossil export, the deeper those divisions will become.
The way forward is to address both sets of fears. Coastal cities will not survive many oil spills or metres of sea level rise. To protect human life, ecological integrity and vital economic zones, the fossil fuel trade will have to shrink in the decades to come. At the same time, people must find meaningful employment in interior communities dependent on extraction.
Canada and the U.S. can pursue the win-win path of renewable energy, electrification and de-carbonization. Or they can keep bowing to the short term needs of the fossil fuel industry. If they do, the fractures between coastal and interior peoples will only worsen. Left for too long, this divide could weaken the political legitimacy of national governments – to the point that a managed transition becomes impossible.
Speak up now and demand that the federal government abandon the Trans Mountain pipeline bailout.