Even the media donates to Christy Clark
No wonder people have a hard time trusting news, polls
It's no secret: Canada's biggest newspaper chain is pushing hard for another Christy Clark majority government.
Postmedia, which owns the Vancouver Sun and The Province, donated $10,000 to re-elect the BC Liberals. Both Vancouver papers have officially endorsed Christy Clark (neither editorial mentioned the RCMP investigation of party fundraising, or Big Money in politics).
Monday morning the Sun declared: "NEW POLL POINTS TO LIBERAL MAJORITY". Accompanying the article was a PDF showing the NDP leading with 35 per cent support, the BC Liberals at 31 and Greens at 17, with 18 per cent undecided.
Here's a screenshot of the article as it appeared on the Sun's website: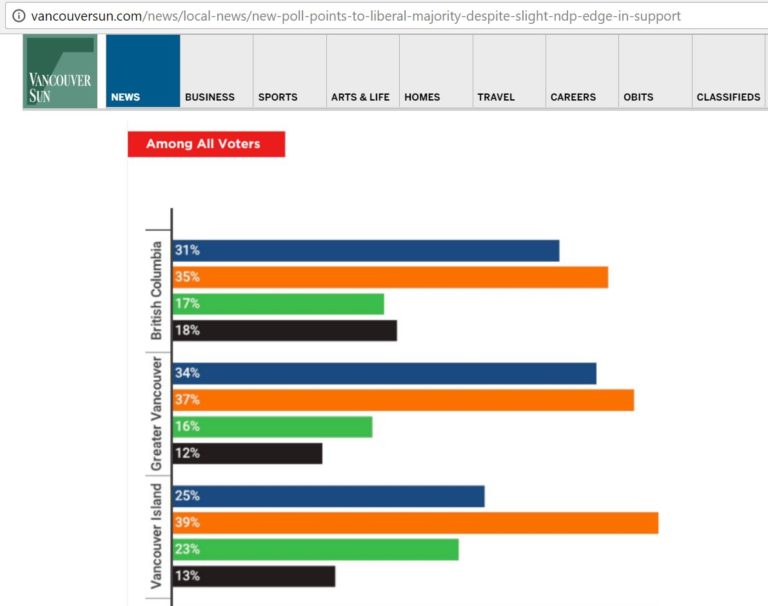 A few hours later the paper replaced the image. The new version dropped the "undecided" number to 14 and boosted the Liberals to 34 points. Reporter Cheryl Chan told me on Twitter "the Sun's PDF was outdated".
Mainstreet Research vice-president David Valentin offered a technical explanation: "The cloud didn't update 4 numbers in one chart." Then the research firm's CEO, Quito Maggi, chimed in. "You don't understand how the embedded chart updates. It was fixed and updated, what's your issue?"
Public trust already low
My issue is not that Mainstreet screwed up and gave its client an incorrect report. Mistakes happen. My issue is that the Vancouver Sun's owners already know who they want to win. That undermines the public's trust in the journalism produced by their reporters.
It's not just Postmedia.
Black Press has given $10,130, including a $3,500 cheque in January. They own local papers all over B.C. Glacier Media (which now owns the Times Colonist), donated $100,000 to the BC Liberals in 2009.
Bell, which owns CTV News, BNN, CFAX 1070 and other talk radio outlets, has donated $65,968 over the years. Shaw, which has since been bought by Corus in a deal that includes Global News, gave the BC Liberals $139,925.
The Rogers Group, which owns City TV, Maclean's magazine and News 1130, has given a staggering $458,018 to B.C.'s ruling party.
Why would media owners put their news reporters in such an awkward position? The simple answer is they don't care. They're producing entertainment. And Christy Clark is good for business.
Will voters prove media owners wrong?
Canada's corporate media barons endorsed Stephen Harper for Prime Minister in 2015. Voters had other ideas. Today, Postmedia says another Christy Clark majority is all but inevitable. The outcome they have worked so hard to create is on the cusp of becoming reality.
Will voters deliver another surprise? Only if they show up to the polls. And that seems to be the one thing making the Vancouver Sun's publishers nervous.
"Millennials, whose participation rate was only 40 per cent in 2013, seem motivated this time around," reads the Sun's weekend editorial. "But youthful exuberance must be tempered by common sense," they warn – before endorsing Christy Clark.
If you needed any more motivation to vote on Tuesday, hopefully that line seals the deal.