B.C. Premier's oil tanker resistance could crumble if Site C, LNG are at stake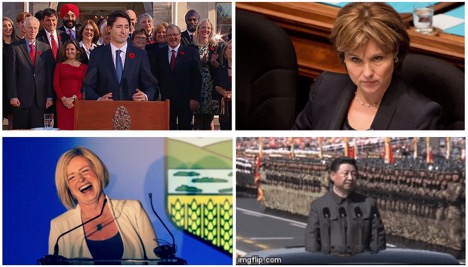 The B.C. government's lack of support for oil tankers on the West Coast has always been up for negotiation. Now, with two of Premier Christy Clark's signature megaprojects held up by other jurisdictions, her administration appears to be removing obstacles to Kinder Morgan's 590,000 barrel per day pipeline proposal.
With a provincial election coming up next May, Clark is running out of time to break ground on two long-promised pieces of energy infrastructure: a fracked-gas export terminal in the mouth of the Skeena River and the Site C hydroelectric dam on the Peace River.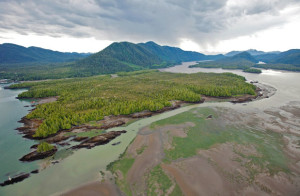 Approval for the Petronas LNG proposal on Lelu Island lies with the federal cabinet, which has given itself three months to make a final decision. On the other side of the province, the success of the Site C dam could depend on the Alberta government. Politicians in Ottawa and Edmonton are asking themselves: What does B.C. have that we want?
Ultimatum from Alberta
On March 15, for the second time in a week, Alberta Energy Minister Marg McCuaig-Boyd stated that Alberta would not buy electricity from Site C unless B.C. approved Kinder Morgan. Knowing how British Columbians respond to ultimatums from the other side of the Rockies, this seems an odd approach for Alberta to take. Unless, of course, behind-the-scenes negotiations are already underway.
As we know from BC Hydro's own forecasts, there's not enough demand in B.C. to justify building the Site C dam. But there are two potential markets for that power: a new LNG industry on the West Coast, or Alberta, which is hoping to reduce greenhouse gas intensity in the oil sands while phasing out coal power.
The federal government supports Alberta's efforts, having also pledged to reduce domestic emissions while opening up new export markets for bitumen. 'Greening' the oil sands is now being pitched as a way to soften pipeline opposition at home while winning customers overseas.
Most of the climate pollution associated with fossil fuels is released when they are burned. But if that happens somewhere else — while the government only counts carbon emissions associated with extraction and processing — then politicians can take credit both for reducing GHG intensity and for getting resources to market. In this way Site C could help expand fracking operations, the Alberta oil sands, or both.
If the power goes East, Alberta could help the Clark government fulfil one of its most elusive conditions for supporting heavy oil pipelines: revenue for B.C.
The Five Conditions
When Premier Christy Clark announced five conditions to be met if B.C. was going to support a new bitumen pipeline to the West Coast, her demands left plenty of wiggle room for politicians to decide when and if they had been met.
To recap, the conditions 5 are:
Successful completion of the formal environmental review processes.
World-leading marine oil spill response, prevention and recovery systems for British Columbia.
World-leading practices for land spill prevention, response and recovery systems for British Columbia.
Legal requirements regarding Aboriginal and treaty rights must be addressed and First Nations be provided with the opportunities to benefit from these projects.
British Columbia receives a fair share of the fiscal and economic benefits of proposed heavy oil projects that reflect the risk borne by the province.
Last month the BC Liberals announced new 'world-leading' oil spill legislation that covers condition 3 — and checks off the provincial elements of condition 2. With this week's budget the federal government began to hold up its end, pledging funding for the Kitsilano Coast Guard station and other marine safety improvements.
Meeting conditions 1 and 4 will depend on the federal government's new pipeline review process, which is designed to supplement the NEB's recommendation on Kinder Morgan. As promised, Ottawa has agreed to consider the upstream pollution that comes with new pipeline proposals — though not what happens to the climate when all this bitumen is actually burned. The federal government is also promising renewed consultation with First Nations.
Conditions 4 and 5 have always been the toughest, and it was the definition of "fair share" that led to fireworks between Clark and former Alberta Premier Alison Redford. Alberta has flatly refused to share any royalties from oil production, and the rest of the revenues from pipeline operation are meagre compared to the risks borne by a host jurisdiction.
Site C could change that equation. With a little imagination, an electricity contract with Alberta could be spun as a win-win that puts money in B.C.'s pocket (never mind the $9-billion in tax dollars to actually build the dam, or the true costs of a bitumen spill).
Winners and losers
Alberta Premier Rachel Notley's goals are clear: expand oil sands production, build pipelines to saltwater, sell bitumen overseas. Without a new pipeline, she knows she's a one-term wonder. Similarly, Christy Clark wants to get at least one megaproject underway before the B.C. election, to show she can deliver on her jobs mandate. Whether that's Site C or the Petronas LNG plant is less important: it just needs to be a big, busy backdrop to her re-election campaign.
The federal government holds some keys to the ambitions of both provinces, but has its own demands and obligations. Prime Minister Trudeau needs both Alberta and B.C. as ambassadors for his national climate plan, and he needs them to play nice if his promise of getting more fossil fuel resources offshore is ever to be realized.
Trudeau is under mounting pressure from oil lobbyists and the Chinese government to get more bitumen to the West Coast. He has also promised to balance a $29-billion deficit, at some point, for which oil & gas revenues are a tempting fix.
Left to their own devices, it's easy to see how politicians could work out a plan to build all three: Site C, the Petronas terminal and Kinder Morgan's oil pipeline to the West Coast. So long as most of the pollution is either not counted (methane gas leaks from fracking operations) or happens in another country (oil and gas exports), the message to voters would be: "we can have our cake and eat it too."
The losers in this sleight-of-hand would be pretty much everyone other than politicians and fossil fuel companies. Heat-trapping gases don't care about jurisdictional boundaries on a map. So anyone affected by climate change has some stake in the debate over expanding fossil fuel infrastructure. Here in B.C., taxpayers would be on the hook not just for storm damage, wildfires, drought and higher seawalls, but a $9 billion new dam, oil spill cleanup and other public gifts to the oil and gas sector.
The Forces of Yes
Three things stand in the way of a B.C.-Alberta pipeline deal: markets, First Nations rights and title, and democratic pressure from ordinary citizens.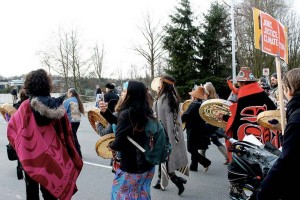 Even with federal environmental permits, the economic case for an LNG industry in B.C. right now is exceedingly weak. Same goes for Canadian oil, which is some of the highest-carbon, lowest-quality crude in the world. If prices stay low and global demand slows, at a certain point it will no longer make financial sense to build more pipelines to ship Canadian bitumen. The trillion-dollar question is when.
Meanwhile, a shared feature of these projects is that they concentrate wealth in places like Houston, Beijing and Calgary, while the negative effects are most acutely felt by Cree and Chipewyan people, Dunne-za, Lax Kw'alaams, Tsleil-Waututh — the list of First Nations whose territories must be sacrificed to build these things goes on and on. Many of these communities are using their legal rights to push back in court.
Finally, surveys show most Canadians support a transition away from fossil fuels, not deeper dependency on a pollution-based economy. While politicians play chess with pipelines and tanker terminals, a growing cohort of voters is starting to question the underlying logic of expanding oil and gas infrastructure in an era of dangerous global warming.
The Clark government appears to be positioning itself to embrace Kinder Morgan, if necessary, but a final decision hasn't been made. Once again it's going to be up to ordinary citizens to create clear consequences for politicians who say no to a clean economy, no to our right to live in a healthy environment, and no to basic accountability. At the same time, we need to make sure there's a political upside to saying yes to a resilient, sustainable future.
While First Nations defend their rights and title in specific places, Dogwood's job is to help organize the broader swathe of B.C. voters who want more democratic decision-making power. If candidates from any party think they can sell out the two-thirds majority of British Columbians who don't want more oil tankers on the coast, they'll face tough odds at the ballot box next May.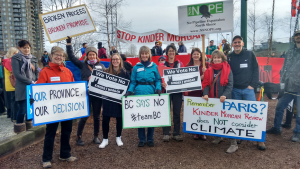 11 Responses to "Is Christy Clark "Getting to Yes" on Kinder Morgan?"