CBC pretends Trans Mountain's 69 oil spills never happened
Truth is the first casualty of the pipeline wars
The next time Canada's public broadcaster publishes a column by Calgary pundit Duane Bratt, it should come with a disclaimer: Warning! Entering fact-free zone!
This week, Bratt penned a passionate defence of the National Energy Board titled "It's not a sham: A rebuttal to Mayor Robertson's Trans Mountain stance". The Mount Royal University professor, who chairs the department of Economics, Justice and Policy Studies, earnestly claimed that in 60 years of operation, the Trans Mountain pipeline had never spilled a drop.
Had Mr. Bratt, or his fact-checkers at the CBC, bothered to look up the "spill history" page on the pipeline company's own website, they would have found 69 oil spills reported to the federal government since 1961, plus more than a dozen leaks of natural gas, jet fuel, diesel, solvents and contaminated water.
Since Texas-based Kinder Morgan bought the line in 2005, there have been 13 oil spills totalling 5,628 barrels of crude. CBC even reported on some of them, including the 2007 gusher  that coated houses in Burnaby's Westridge neighbourhood before draining into Burrard Inlet.
Memo to @DuaneBratt: you're entitled to your own opinions, but not your own facts. Surprised @CBCNews printed this: https://t.co/iGnENgspJM

— Kai Nagata (@kainagata) May 25, 2016
CBC Calgary has since toned down the title of Bratt's column and issued a correction for his most egregious mistake: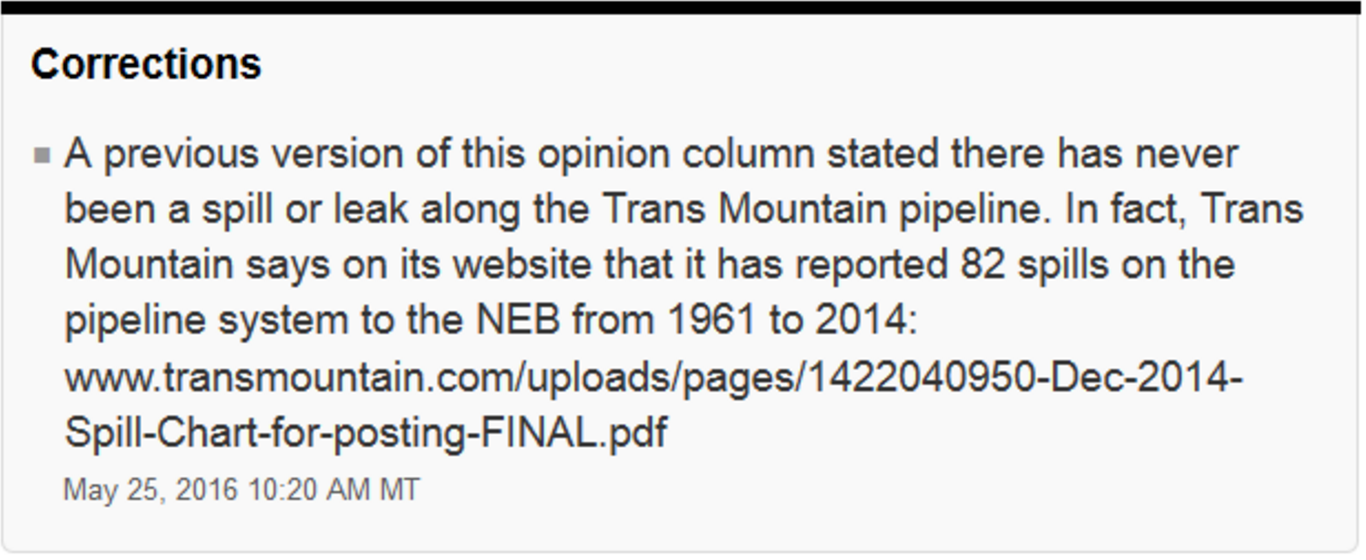 However, the editors at the CBC left this bizarre section of Bratt's column intact:
"The Vancouver mayor also alleged the NEB was politicized by the former Harper government, which flies in the face of the changes the new Liberal government introduced in January. These changes include analyzing the direct and upstream greenhouse gas emissions linked to the pipeline projects, additional public input and enhanced Indigenous consultations — a new process that was used when the NEB adjudicated the Trans Mountain project."
Again, Bratt is basing his argument on a fabrication. The decision delivered by the NEB last week did not include any of the changes promised by the new Liberal government, which is precisely why people were upset.
Where's the critical thinking?
I don't think Duane Bratt is deliberately misleading the public. But I am worried that university professors and professional journalists are failing to exercise their critical thinking skills, which has the effect of skewing the whole debate.
If you live in a fantasy world where pipelines never spill, then the concerns of First Nations and British Columbians along the route must sound silly indeed. If you believe Justin Trudeau waved a magic wand and fixed the National Energy Board, then its decisions must seem eminently credible.
By the same token, if pipelines don't load their cargo of toxic, sinking bitumen onto oil tankers, which must then sail the B.C. coast on their way to China — well, then the whole enterprise of crude oil export becomes far more palatable.
Over the weekend, Times Colonist columnist Les Leyne wrote of the NEB decision, "It's when the oil gets to a refinery in Burnaby that all the worries and the arguments start." But there's no refinery involved. The whole point of these oil tanker proposals is to send raw, unrefined heavy crude to refineries overseas. Meanwhile, we import light crude and gasoline.
I'm all for debating the benefits and tradeoffs of the Kinder Morgan proposal. In fact, I'll fight for the right of people who support these oil tanker projects to vote in favour of them, so long as British Columbians get to make the decision. But we can't have an informed public conversation when university profs and news outlets aren't giving people the facts.
Have your cake and eat it too!
Pundits and politicians are now peddling another fact-defying fantasy: that we can somehow expand heavy oil production in the oil sands while curbing climate pollution and meeting our international climate commitments.
Here's how the pollsters at Abacus chose to phrase the question last week: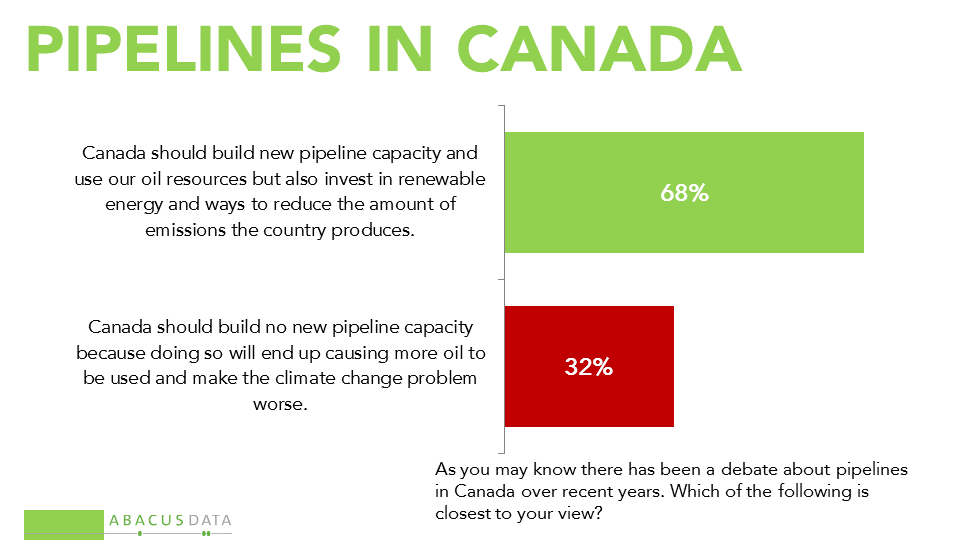 They may as well have asked, "Would you eat cake every day if it never made you fat?" Or, "Would you consider smoking if cigarettes didn't cause cancer?"
The reality is these pipelines would make reductions in Canada's climate pollution nearly impossible unless everyone else made big sacrifices to accommodate the oil and gas sector's ballooning portion of the country's overall carbon budget.
That's because the whole purpose of these projects is to facilitate expansion of the oil sands. Heavy oil producers plan to nearly double their production in Alberta by 2030, and these pipelines and oil tankers are essential to drain that vast pool of carbon as quickly as possible.
Why the rush? Because even if we plan to cheat on our pollution diet, it's unlikely there will be a long-term global market for oil sands bitumen.
To stay below two degrees of global warming — the upper limit for a safe future — the International Energy Agency says oil use will have to drop 6 per cent by 2030. That means high-cost, low-quality crude will be squeezed out first, a fact acknowledged this week by French oil giant Total SA as it winds down its Canadian operations.
The only way heavy-oil pipelines remain profitable in the decades to come is if international efforts to curb climate change fail. That's what other companies like Exxon are betting on. And maybe they're right.
Maybe Canadians just want to ride this sunset industry into the ground and pick up the pieces later. But we deserve a fair choice, informed by a fact-based discussion. And the facts, when it comes to Enbridge and Kinder Morgan's West Coast heavy-oil proposals, are these:
Pipelines come with oil spills

Pipelines come with oil tankers

Pipelines come with increased carbon pollution
Export pipelines, it must be noted, also ensure continued dependency on foreign light crude and gasoline. If citizens are okay with making these tradeoffs so oil companies in Beijing, Calgary and Houston can make money in the short term, then I can hardly stand in the way.
But I will speak up when I see academics and news outlets using their trusted brands to feed people fake facts, false choices and fantasy.
If you'd like a fair, province-wide vote on West Coast oil tanker projects,
please add your name at www.LetBCvote.ca