BC NDP 'fixer' quietly changed leadership rules mid-race
Elections BC closes review of complaints against Dogwood
Elections BC has now confirmed it will not investigate Dogwood's signup drive in the BC NDP leadership race. In our democracy, third-party organizations like unions, churches and NGOs are allowed to encourage their supporters to join political parties. We followed the law.
How then could the BC NDP use Dogwood's campaign to discredit and ultimately disqualify leadership candidate Anjali Appadurai? The answer lies in the fact that leadership races are run by political parties – not B.C.'s independent election regulator. Parties set their own rules and can change them on the fly, as the BC NDP did three times starting August 31.
The party's appointed 'chief electoral officer' was Elizabeth Cull. Cull is not a judge or a lawyer, but a former NDP politician turned lobbyist for Hill+Knowlton. Faced with a huge surge of signups, Cull's task was to find a way to ensure those new members never got the chance to decide who should lead their party.
Cull accomplished her mission with a damning 'report' that was leaked to media the day before party executives met to vote on Appadurai's disqualification. Although Dogwood is mentioned 98 times in the document, our organization was never contacted by Cull or given a chance to respond.
Party executives based their decision to disqualify on the Cull report alone, not allowing Appadurai to speak at the meeting or address the accusations against her. The axe came down October 19, ending the leadership race.
Step into the time machine
The evening of August 6, former federal NDP candidate Anjali Appadurai was weighing a huge decision: whether to throw her hat in the ring to replace outgoing premier John Horgan. She invited about 100 people to a Zoom meeting, including colleagues and friends from the climate movement whom she had worked with over her career.
There was no Appadurai campaign when the meeting began. But if she was going to run, two sets of rules would apply: The Election Act, administered by Elections BC. And the BC NDP's Regulations Governing the 2022 BC NDP Leadership Election Campaign, ratified by the party's provincial council on July 16.
Dogwood staff had been in contact with Elections BC compliance officers since June, asking their advice in case there was a contested race for premier. They told us a party leadership race is not considered an election period, and no restrictions applied to communication with our own supporters. They confirmed we could contact Dogwood's own e-mail list and encourage people to join the BC NDP.
Meanwhile, the BC NDP's leadership rules barred constituency associations and party committees from spending money on behalf of a candidate. But at that point in August, they placed no restrictions on outside third parties like Dogwood. You can still download those rules from the BC NDP website.
This openness exists because third parties are integral to democracy in B.C. Having unions and other organizations drive participation in a leadership race is healthy and normal. Dogwood didn't go looking for loopholes – we did the same thing third parties have done for decades, to give more people a voice in the political institutions that shape all of our lives. But the ground was shifting beneath our feet.
Retroactive rule changes
I was invited to the August 6 Zoom meeting and asked how Dogwood supporters might react to a candidate with Appadurai's values running for the highest office in the province. Although Appadurai hadn't decided yet, I knew our supporters were excited by the prospect of a leadership race, and many former BC NDP members told us they were ready to sign up again – if there was an actual debate about oil and gas expansion.
I said if the BC NDP held a contested leadership vote, we would work until the signup deadline encouraging people to take out a membership. That is what Dogwood did. After Appadurai announced her bid, Dogwood staff and volunteers phoned, texted and e-mailed our supporters, letting them know there was a race, who was running and how to sign up if they wanted a vote. This internal signup drive was conducted independent of any candidate's leadership campaign.
Unlike other third parties active in this race, Dogwood never sent our supporters to a candidate's campaign. Every link we sent out was to the BC NDP's general membership signup page. We shared no data, lists, money or other paid resources with any candidate. We encouraged people to vote with climate change as a top priority, as we do in every election.
NDP members never got the chance to compare the candidates on climate – or most issues. That's because the party ended the race before the scheduled debates. Neither candidate had time to release their full platform. That said, Appadurai's campaign clearly electrified youth and other voters desperate for leadership in the climate emergency. She pulled no punches when it came to her own party's record. And that is what made her a threat.
Appadurai's written submission to the party in her own defence reveals that Cull updated the leadership race rules no less than three times in 'CEO bulletins' sent to candidates. But these rule changes were never posted publicly, and certainly not sent to Dogwood.
Appadurai wrote: "the CEO wrote new rules and issued them on August 31, and then went back and investigated us for things that happened weeks before, and found that we had broken rules around third parties that didn't even exist at the time of the events in question […] there is no other plausible explanation other than that the rules were written to lay the ground for the disqualification process now underway."
Election advertising
Cull states that "Dogwood used paid resources to sign up members for Ms. Appadurai at her request." That's not true. Appadurai never asked Dogwood to sign up members, for her or otherwise. Our plan to contact our own supporters predated any candidate joining the race. Elections BC okayed our use of paid callers back in June.
Cull insinuates that Dogwood's "paid ads to the public" contravened B.C.'s campaign finance laws. This is easily proven false. Dogwood ran only one ad about the leadership race, over the Labour Day weekend right before the deadline for new members to sign up to the BC NDP. It didn't mention or picture any candidate. Again, it linked only to the party's general signup page.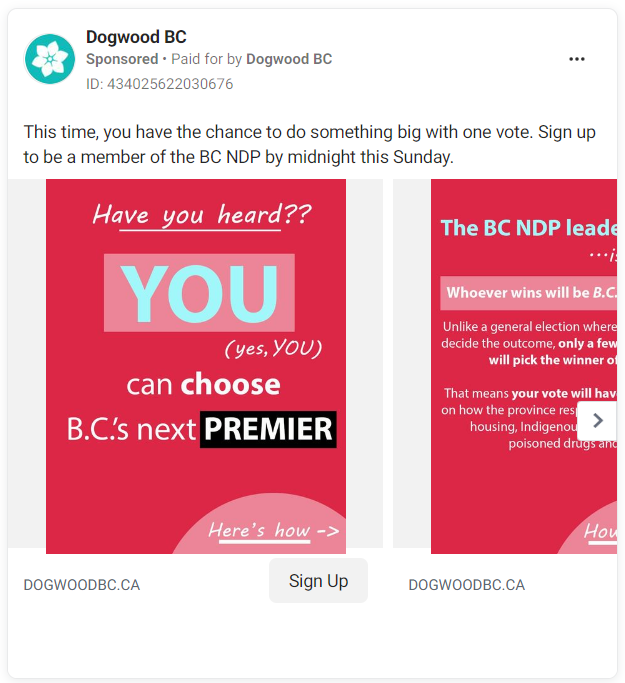 However, this ad does count as third-party political advertising because it was placed during an unrelated election period: the late summer by-election to replace outgoing Surrey South MLA Stephanie Cadieux. Again, Dogwood sought guidance from Elections BC before placing the ad.
This time a compliance officer advised that because the ad promoted membership in the NDP, we would need to register as a third-party advertiser and disclose the amount spent. We registered. The deadline for that report is in December, but our publicly-available Facebook Ad library confirms the placement cost was well under the by-election spending limit of $3,468.
Volunteering
Throughout the course of the leadership race, hundreds of BC NDP members volunteered their time on the different campaigns. Many of those people have day jobs. Some of them work for organizations that met with candidates, issued endorsements or ran third-party membership drives during the leadership race. All of that is legal, and common practice in party politics.
After the Appadurai campaign launched, the nascent campaign team asked Dogwood staff to help them with basic tasks like copy-editing. I and Alexandra Woodsworth agreed, and both volunteered a few hours outside work time in August. At that point in the race there was nothing in the rules to give us pause.
Dogwood staff never held decision-making roles in the Appadurai campaign, and stopped volunteering before Cull's August 31 rule change. Nonetheless, Cull retroactively accused Appadurai of "improper coordination" with Dogwood and other third parties, zeroing in on the August 6 Zoom meeting. Such are the powers of an internally-appointed party election regulator.
"Fraudulent" memberships
Cull reserves her most passionate condemnation for what she calls the "corruption" of the party's voter list due to the "solicitation of fraudulent memberships by Dogwood". These are serious-sounding accusations that were repeated many times in news articles and on social media. But what actually happened?
When the leadership race started, membership in the BC NDP was open to any B.C. resident 12 and older with $10 to give the party. Thousands of new and returning members signed up. By the end of the race, 7,000 of those members had been targeted by the BC NDP and subjected to a voter suppression campaign designed to identify people who had previously "supported" other political parties.
Someone told me they were asked by the caller, "Have you always voted NDP?" https://t.co/J964SIdOfc

— Amanda Follett Hosgood (@amandajfollett) October 20, 2022
People who received these phone calls reported being questioned on whether they had read the BC NDP constitution (which was not available online), or donated to other parties in the past. Cull's definition of party support was arbitrary and subjective, making it impossible to judge her claim that interlopers had "compromised the integrity of the leadership election itself".
Cull took umbrage at Dogwood saying that British Columbians could join the party for the leadership vote and leave later if they chose. She found no wrongdoing when a union local on Vancouver Island did the same. The truth is, people have a right to switch political parties any time they choose, for any reason they like. That is another feature of a healthy democracy.
Time to clean up this mess
The BC NDP changed its own rules in the middle of a leadership race, and enforced them selectively. They derailed a public debate between the candidates, and denied their own members a vote on who should lead the party and the province. They attacked the morals and reputation of a candidate who inspired a genuine surge of excitement from voters. And their CEO falsely implied that Dogwood broke the law.
Perhaps it's time for these internal party elections to be run by an independent regulator: Elections BC. Candidates, voters and third-party groups deserve a clear set of rules and a level playing field. To bolster public confidence in leadership races and nomination contests, let's put them under the jurisdiction of the same civil servants who administer our general elections.
Most recent party leadership races in B.C. have been plagued by controversy, and this one was no exception. The safe option for Dogwood might have been to sit it out altogether, but we believe in seizing opportunities to expand democratic participation. If we don't wade into fights like these because they might get messy, we leave them to be controlled by a small number of backroom power players, with real consequences for our communities, our climate – and our democracy.
What's next for climate voters now that the BC NDP has shut down its leadership race? Join our online town hall next week to look at our options. One thing's for sure: we can't let oil and gas lobbyists continue to call the shots in Victoria. As our province slides into a deadly climate crisis, only organized people power can counter the growing influence of the fossil fuel industry.