Resumption of American tanker barge traffic highlights safety gaps on B.C. coast
FOR IMMEDIATE RELEASE
November 1, 2016
UPDATE (9 a.m., Nov 2): The Dale R. Lindsey is anchored in Port Hardy on its way to Ketchikan, as foul weather continues to pound the central coast.
BURNABY – The tug Dale R. Lindsey is on its way to Alaska, pushing more than a million gallons of fuel past the wreck of the last Articulated Tanker Barge that attempted to sail the B.C. coast. Crews are still struggling to contain oil and diesel spilled by the Nathan E. Stewart, which sank on a reef in Heiltsuk First Nation territory, devastating local fisheries.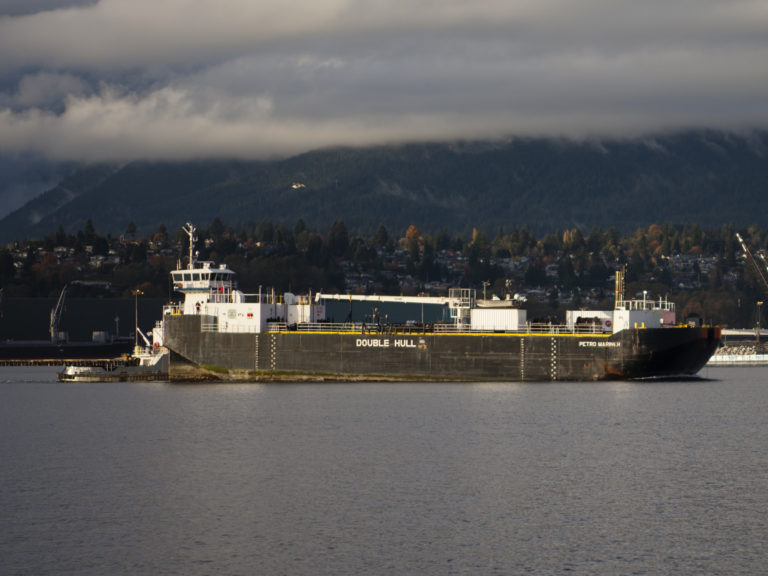 The "Dale R. Lindsey" pushes its 28,500-barrel tanker barge to the Chevron terminal in Burnaby, Oct 29 2016. (Heiltsuk Nation)
"At the very least the federal government should put a halt to American tanker barges until we have effective oil spill response on the B.C. coast," said Kai Nagata, communications director at Dogwood Initiative. "Instead they're sending another one through while cleanup crews are tied up in Bella Bella."
Dogwood has long called for a legislated oil tanker ban on B.C.'s North Coast. "Now people are wondering if that's enough," said Nagata. "After 20 days we're still trying to clean up a tugboat's worth of diesel. Forget about full-size oil tankers, we need to rethink safety measures for existing barges and ship traffic."
Vessel tracking information shows the Dale R. Lindsey now making its way past Malcolm Island, pushing its 28,500-barrel tanker barge. Under new rules announced by Canada's Pacific Pilotage Authority, tanker barges are not allowed to transit the inside passage after Vancouver Island, instead hugging the outer coast through Queen Charlotte Sound and Hecate Strait.
A storm warning is currently in effect for Hecate Strait, with Environment Canada forecasting winds up to 60 knots and waves up to 7 metres high. Bad weather has hampered cleanup and recovery of the Nathan E. Stewart ever since it ran aground October 13 on its way back from Alaska, pushing an empty fuel barge.
"It's not clear that sending these tug and barge units into open ocean is any safer," said Nagata. "This way, if they run into trouble, they're even farther from a response base. We need to stop and think about the level of risk B.C. is willing to take on behalf of American refineries and fuel shippers."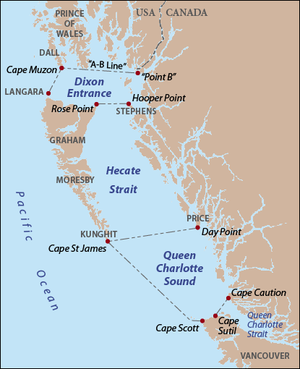 Area covered by the oil tanker ban promised in the Liberal election platform (Wikipedia). The "Nathan E. Stewart" sank near the 'a' in "Day Point".
Dogwood Initiative is B.C.'s largest citizen group, with 257,548 contactable supporters in the province. Through the TankerBan.ca petition, Dogwood is calling on the federal government to honour its promise to ban oil tankers on the North Coast, including Dixon Entrance, Hecate Strait and Queen Charlotte Sound.
— 30 —
Image galleries of sunken tug and spill cleanup:
https://spaces.hightail.com/space/DHMF4
https://spaces.hightail.com/space/Yxnp7
https://spaces.hightail.com/space/dtxLt
https://spaces.hightail.com/space/BuXnu
https://spaces.hightail.com/space/H5q4X
Contact:
Kai Nagata
Communications Director
kai@dogwoodbc.ca
778-829-6493