Classic 1953 pipeline for sale. Some rust.
Premier Rachel Notley says Alberta is willing to buy the Trans Mountain pipeline. Here's what taxpayers would get.
For sale by owner: one antique oil pipeline. Plenty of mileage on her but she's still running.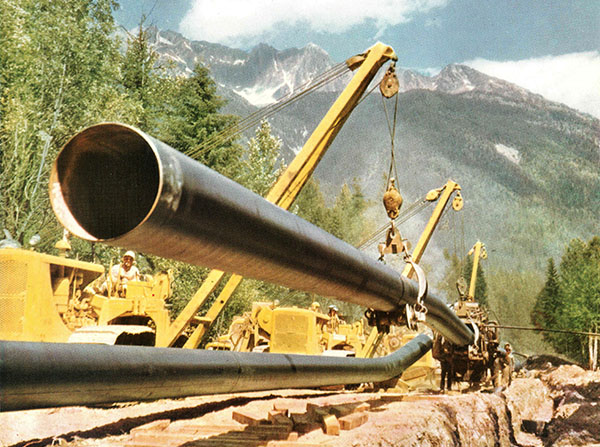 Built in the good old days, before "Indians" were allowed to hire lawyers. Pipeline includes a right-of-way through 15 B.C. reserves.
Comes with a vintage Korean War-era tank farm. City of Burnaby not exactly as pictured.
Reliable as they come. Only 69 oil spills since records started being kept in 1961.
Some rust. Pipe walls might need extra wrapping in some places. A great fixer-upper!
Be careful running diluted bitumen at high pressure through a pipe this old. If you have a blowout near a river, budget a few billion dollars for attempted cleanup.
Owner looking to leave town in a hurry. SERIOUS INQUIRIES ONLY. NO LOWBALLERS. BRING CASH.
***
Okay, this ad is a joke, but the photos are all real. They come from a 1953 promotional book published by the original Trans Mountain pipeline company. Kinder Morgan bought the aging pipeline in 2005. The company has no plans to replace the now 65-year-old infrastructure. The proposed Trans Mountain "expansion" or "twinning" would simply add another, larger pipe across B.C., taking advantage of the existing right-of-way.