The tools we need to reclaim our decision-making power
The following resources are provided for you as tools to organize yourself, your team, and your community to reclaim decision-making power over our shared environment and democracy.
Organizing means empowering our communities to take collective action. Together, we can marshall our resources, skills and relationships to build power and reach common goals. To do so, we must have good tools, great communication and champion teammates.
Find resources on this page to help win our campaigns and build our grassroots power.
Contents:
Important note: To access some of this information, you will need to be added to our Google Team Drive. Contact your local point person for access.
What is Dogwood?
Dogwood is B.C.'s largest non-partisan citizen engagement network.
We focus on the local environment and democracy issues where we think we can make a difference. To be effective, we choose to work on no more than a few campaigns at once.
Right now, our campaigns are:
Stopping new tanker traffic and a public buyout of the Trans Mountain pipeline.
Halting thermal coal exports through B.C. ports.
Ending corruption in B.C. politics by calling for a public inquiry and holding decision-makers accountable.
Dogwood's mission is to bring together British Columbians to take back decision-making power over the air, land and water we depend on. We empower ordinary people to safeguard their communities for generations to come.
Read more about Dogwood's mission, goals and theory of change.
Who volunteers with Dogwood?
Dogwood welcomes citizens and residents who share our values and goals to volunteer and organize with us. Our volunteers build grassroots power wherever they are and put it to use to protect people and our planet.
Dogwood volunteers are British Columbians of many ages, genders, ethnicities and backgrounds. Students, seniors, parents and permanent residents are among the people who organize with us.
Meet some of our dedicated volunteers below. Click on the images to read more about them.
How to take back decision-making power in your community
We build grassroots power by having face-to-face conversations about shared values with our neighbours. We do this by canvassing — meeting people where they are, in public or at their doors, to talk about our issues and ask for their support.
Resources for talking to your neighbours
Handouts for canvassing and teams
Tracking our Success
A vital step in building grassroots power is ensuring that we track our success. This means entering data from a canvass into our digital system. With this info, we can count how many people in a given riding are in support of our campaigns. This is the key to unlocking our political power and ensuring people can take action during key moments in our campaign.
How to build a local Dogwood team
We are most effective when we work together and organize as a group. Local teams connect people with shared values and complementary skills and relationships to do the grassroots organizing work that wins campaigns.
Local Dogwood teams can be anywhere people are interested in canvassing and meeting with their local elected officials and candidates. As teams grow in members and influence, people take on specific roles and meet regularly to build political power for the long-term.
Here are some resources on how you can build a team:
How to build power to hold local politicians accountable
A healthy democracy means citizens have power over their local politicians. Elected officials respond to their constituents when they feel their reputation or position is at risk.
Our influence is greater when we organize together instead of individually. We collect signatures and identify supporters together so that we can mobilize people to contact their elected officials at key decision-making moments. By acting in concert, we are more likely to be heard and listened to by the public, media and politicians.
Local teams are encouraged to meet regularly with their provincial, federal and municipal politicians. Dogwood maintains template agendas and resources for meeting with them; talk to your point person to get ready for your first meeting.
Check out this government relations presentation to give you an idea of some best practices and how our political process works.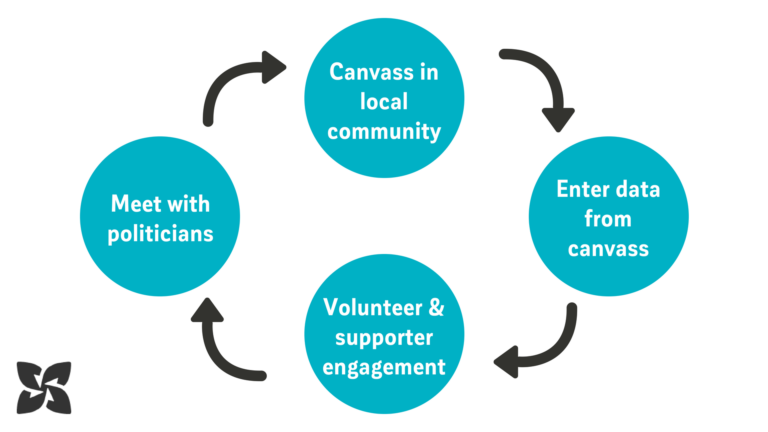 How to organize on a university or college campus
So you want to tap into the wealth of knowledge, enthusiasm and people power inside your post-secondary school to build grassroots power?
Join one of our campus teams on Facebook:
What tools does Dogwood use to organize?
Nationbuilder
We use Nationbuilder to contact and organize other local volunteers. Members and prospective members of your local team, as well as people who volunteer only at key moments, can be found in this online tool.
With Nationbuilder, we can email large numbers of volunteers at once and log contacts with individuals.
To gain access to Nationbuilder, contact your local point person.
If you're already a Nationbuilder user, find training resources here.
Callhub
We use Callhub to contact Dogwood supporters by phone during key campaign moments and ask them to take action. The tool keeps volunteer numbers private while enabling us to contact large numbers of supporters with a small number of volunteers.
Callhub is most often used during election campaigns, to help us "get out the vote" and ensure our supporters participate in elections.
To get trained on CallHub, sign up here.
Hustle
Hustle is a peer-to-peer texting tool that enables volunteers to send personal text messages to large number of supporters. People can ask questions and receive responses from a real volunteer, not a bot or an automated response!
Just like Callhub, the tool protects your privacy and helps us follow-up with supporters. We've used Hustle to quickly mobilize thousands of people to contact their politicians, attend events and more.
To get trained on Hustle, sign up here.
Who does Dogwood partner with?
Dogwood builds strategic alliances with groups that share our goals and complement the way we organize. We have formal partnerships with some groups, including My Sea to Sky in Squamish and West Kootenay Eco-Society in Nelson. We work closely with these organizations at key moments like elections and public consultations.
We also collaborate with more civil society groups from across our movements. We fundraise for Indigenous legal challenges. We mobilize people to participate in major events and comment periods. We host organizing trainings together. And more!
Where can I learn more about our issues?
Check out the links below for news stories, commentary and links to other groups working on our issues.
Tankers and Pipelines
Corruption
Coal Exports
How to keep up-to-date on Dogwood news
For campaign updates and news read our blog. For more in-depth discussion and analysis, listen to the Dogwood Podcast.
Follow Dogwood on Twitter, Facebook and Instagram.
Can't find what you're looking for here? Still have questions? Get in touch with your local staff organizer.