Texas pipeline executives warn construction is coming — this winter
Yesterday, Kinder Morgan issued their quarterly report on a phone call with the investors whose money they're gambling in a high stakes battle against First Nations, British Columbians and a rapidly transitioning global market.
Once every three months we have an opportunity to listen to former Enron executive Rich Kinder and his merry band of oil millionaires reassure investors their cash is in good hands. So, of course, we must take their overconfidence with many grains of salt.
Still, there's some juicy intel for Trans Mountain opponents to glean from yesterday's reports from Kinder Morgan and their Canadian subsidiary. Here's my quick recap for you — the good, the bad and the ugly.
The good
Kinder Morgan admits their project is already behind schedule. They're almost two months off their planned start date so far and currently projecting a nine month delay.
As it turns out, basic regulatory requirements can be time-consuming when there are, for instance, hundreds of residents in Chilliwack willing to object in writing to the pipeline route on the basis of wanting to continue to drink clean water.
You can also see the value of Kinder Morgan IPO shares drop a little in response to the news of the impending delays, if you're into that stuff: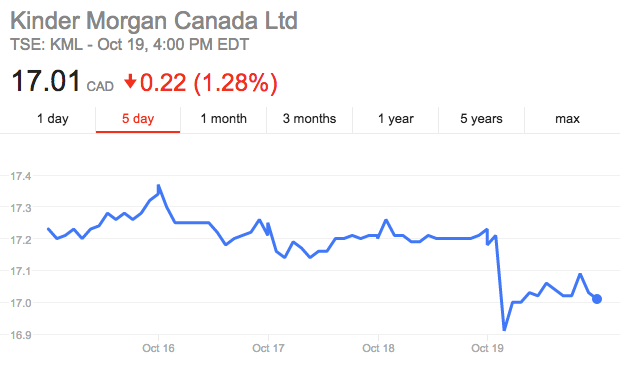 The bad
Kinder Morgan is pleased to report they're gathering the permits they need to build — including from the B.C. government.
CEO Steve Kean said:
"We recently received… permits from British Columbia granting access to nearly half of the Crown land parcels that we need in British Columbia."
Oof.
The ugly
All of this means a renewed threat that construction is on the horizon. In yesterday's news release, the company states:
"Trans Mountain is now in receipt of a number of priority permits… including access to British Columbia northern interior Crown lands. Pending receipt of some further permits and approvals, clearing and other construction activities will commence this year in Alberta and the B.C. northern interior."
How about that for a real bummer? Or, a real reason to keep up the pressure on our elected officials to stand up for our communities…
Keep calm and organize on. Send your message to Premier Horgan.
30 Responses to "Kinder Morgan's investor call: the good, the bad and the ugly"