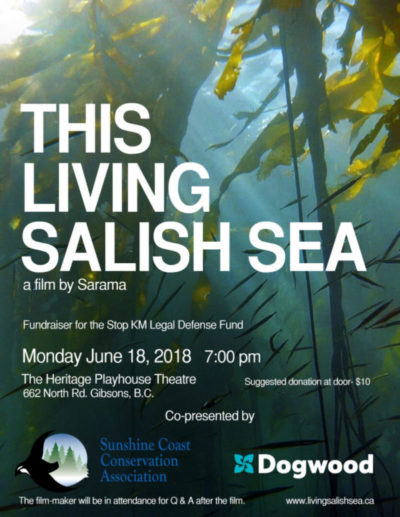 Dogwood and Sunshine Coast Conservation Association are pleased to invite you to a special big-screen presentation of
This Living Salish Sea
,
on Monday, June 18 at the Gibson's Heritage Playhouse.
This documentary explores the living treasures of the Salish Sea and the currents of resistance coming together to defend it. Following the screening, filmmaker Sarama will address the audience and staff from Dogwood and SCCA will be available to take your questions
Support local storytellers. Join with your neighbours to defend the place we live. Proceeds above screening costs will fund the legal defence of citizens defying Kinder Morgan court injunctions.
Doors open at 6:30 pm, film starts at 7:00 pm. Seating is limited. Please RSVP Here